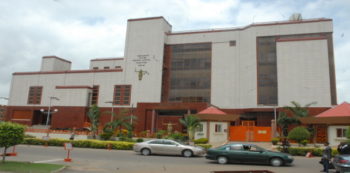 Justice John Tsoho of the Federal High Court, sitting in Maitama, Abuja, on Tuesday, February 13, 2018, granted a preliminary objection made by the Economic and Financial Crimes Commission (EFCC), seeking to be removed from a suit filed by Malabu Oil and Gas challenging re-allocation of Oil Prospecting License (OPL 245).
Malabu Oil and Gas had in March 2017 filed the suit against the Federal Government and six others, including the EFCC, a few days after a Federal High Court vacated an interim order of forfeiture on the Oil Prospecting License (OPL) 245.
Other defendants in the suit are Minister of Petroleum Resources, Shell Nigeria Ultra Deep Limited, Shell Nigeria Exploration and Production Company Ltd, Nigerian Agip Exploration Company Ltd, Economic and Financial Crimes Commission and Dan Etete.
Malabu Oil and Gas had through its counsel, J.A. Achimugu, in a writ of summons marked FHC/ABJ/CS/201/2017, prayed the court for "a declaration that its rights and interest in OPL 245 granted or re-allocated to it is still valid and subsisting".
It also sought for "a declaration that not being a party to April 29, 2011, Block 245 resolution agreement, it was not bound by the terms of the said agreement as it relates to or concerns OPL 245".
The oil company, also sought the court to make an order "compelling government and the ministry to restore to it, its right to the exclusive possession of OPL 245".
In addition, Malabu also urged the court to make an order of perpetual injunction restraining government and associates, particularly, the sixth defendant (the EFCC), from treating and/or dealing with OPL 245 as a proceed of an offence and from interfering in any manner whatsoever and howsoever with its exclusive right to explore and prospect for petroleum in the area of OPL 245.
At the hearing of the case today, counsel to the EFCC, Johnson Ojogbane, made a preliminary objection, seeking the court to strike out the Commission from the suit.
"We filed a preliminary objection, dated May 18, 2017, and filed on the same day. It is supported by a 9 paragraph affidavit and we rely on each of the paragraphs of the affidavit and we move in terms," Ojogbane prayed.
The plaintiff did not raise any objections.
In view of this, Justice Tsoho granted the prayer, thereby striking out the EFCC from the suit.
"The sixth defendant's preliminary objection dated and filed on 18th May 2017, is granted. The sixth defendant is hereby struck out from the suit," Justice Tsoho ruled.