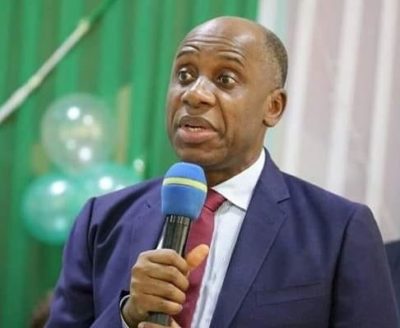 The Minister of Transportation, Rotimi Ameachi, has given his support to the move by the Council for the Regulation of Freight Forwarding in Nigeria (CRFFN) to ensure that effective from December 2019, all licensed customs agents and freight forwarders who are not registered with the Council are denied renewal of their licences by the Nigeria Customs Service (NCS).
Speaking at a sensitization workshop on 'Freight Forwarding as a Career' organized by the CRFFN in Lagos on Tuesday, Ameachi said that "not even the President is above the law".
"We will get the Nigerian Ports Authority and all other agencies not to allow those persons to function. They can only function through the law guiding the CRFFN," he said.
According to Amaechi, the CRFFN has the mandate to set standard, build capacity, regulate freight forwarding practice and generate revenue for the government.
He commended the body for having accredited about 17 tertiary and professional institutions across the country for the purpose of freight forwarders' education and therefore enjoined all practitioners to take full advantage of it to remain fit and competent.
He expressed hope that the training would yield better competitiveness in the industry, as it is the freight forwarding activities that determine the logistics performance index and the country's competitiveness.
Meanwhile, following the desire of the CRFFN management to float a technology-driven Uber-style trucking system within a year, the Senate Committee on Marine Transport has assured that it would make the necessary budgetary adjustments to facilitate its realisation.
Chairman of the Committee, Danjuma Goje, urged the agency to prioritise the scheme at the expense of some less pressing items, as its budget as already presented cannot be increased.
Speaking on the plan, Registrar of CRFFN, Samuel Nwakohu, explained that the many sub-standard trucks at the Nigerian ports and on the roads across the country was the major reason why containers often fall and kill people/damage goods, and cause traffic disruption, among others.
"To sanitise that, we looked at the whole scenario and know that most people cannot afford to buy new trucks. So, we came up with the idea of giving it to manufacturers or distributors, who would place new trucks or trucks in top condition, on the platform, just like Uber.
"We will develop an app for this and distribute it, so that intending users could simply call the app and a ready truck will come up. It is still on the drawing board, and is estimated to cost between N70 million and N100 million.
"We forgot to include it in the budget because we were under a lot of time pressure. It is a technology-based platform, comprising a centre, computers and young people controlling the calls," he said.
He added that the benchmark for freight forwarding practice in Nigeria from 2021 will be the FIATA Diploma in Freight Forwarding and Supply Chain Management, which will be raised to FIATA Higher Diploma in future.