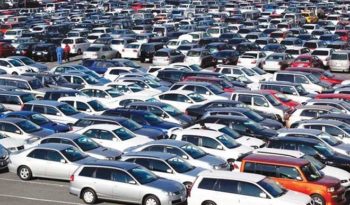 The Association of Nigerian Licensed Customs Agents (ANLCA) and the Shippers' Association Lagos State have disagreed over the one-month grace period given by the Nigeria Customs Service (NCS) concerning payment of duty on vehicles.
Both bodies expressed diverse views in separate interviews with newsmen on Tuesday in Lagos.
The National President of ANLCA, Prince Olayiwola Shittu, advised the Customs Service to make the deadline for duty payment on vehicles an open-ended operation, saying the policy would check smuggling.
The President, Shippers Association Lagos State, Jonathan Nicol, described the Customs policy on vehicle duty as outdated and not in conformity with the current situation in world trade.
Shittu said that such a policy should be extended or be an open-ended operation so that the duty on some vehicles that passed through Customs and not properly cleared, would be paid.
The Customs agent said that if Customs continued, vehicles owners would be forced to pay duties on those vehicles that were not cleared but found their ways into the country.
He said that the new policy by Customs would discourage smuggling activities along the border areas.
"Anybody who has a vehicle imported through the border should check with Customs, if correct duties were paid.
"Some people go to Cotonou to buy vehicles and paid duties, while the smugglers take them through unapproved routes.
"Anyone who finds himself in such a position will be embarrassed," Shittu said.
Speaking with newsmen, Nicol, decried the Customs policy on payment of duty on vehicles that were already in used.
Nicol described the policy as "outdated", saying that such a policy did not conform with the current trends in world trade.
"Customs should go back to the drawing board if smugglers beat their network,'' he said.
He said that there was no vehicle that passed through the border line without paying duty, whether official or non-official.
The Chairman, Association of Nigerian Licensed Customs Agents (ANLCA), Seme Border, Bisiriyu Lasisi-Danu, commended the efforts of Customs in issuing an ultimatum for payment of duties on vehicles to avoid seizures.
"The Comptroller-General of Customs says if anyone has a car and such a person knows he has not paid duty, such person should visit Customs zonal offices and make duty payment.
"If any car user did not pay duty on his car, Customs would go after the owner and seize the car for not paying duty.
"I have told some of my friends whose vehicles have been impounded one way or the other, to go and pay.
" Those affected should go to Customs Zonal Offices to raise duty and the person will be free to move around with the car," Lasisi-Danu said.
He said that Customs was on the right track. The ANLCA chief said that government would soon link Vehicle Identification Number with Local Government, Federal Road Safety Corps (FRSC) and Customs for easy identification.
A maritime Lawyer, Tino Bouro, said that "Customs is a statutory body that must act within the law''.
Bouro said that, "If anybody does not comply with Customs directive on duty of vehicle, such a person would face the consequence.''
The Customs Public Relations Officer, Zone `A`,  Ephraim Haruna, said that one of the Automobile Associations sought the support of Customs to to create a platform for payment of duties.
Haruna said that the association wanted to ensure that smuggled vehicles did not escape duty payment.
According to him, this is why Customs gave a month's grace to enable all vehicle owners who had yet to pay duty, to do so.
"Many car owners who have not paid duty have been calling our zonal office and some had been calling on phone that they want to come and pay duty on their vehicles," said Haruna.
He said that Customs had made all necessary arrangements for the payment.
Haruna said that the service would start arresting vehicle owners who did not pay duties from Monday, March 13.
The Customs Public Relations officer, Tin-Can Island Customs Command,  Uche Ejesieme said, " New vehicles attract 35 percent duty and 35 per cent levies while used vehicles attract 35 per cent duty and 5 per cent Value Added Tax (VAT).
On Thursday, the Comptroller-General of Customs, Retired Col. Hameed Ali, approved a period of one month grace for all car owners who had not paid duty to do so or face outright seizure.
The Acting Public Relations Officer of the NCS, Joseph Attah told newsmen that the one month grace period started from March 13 and to end by April 12, for car owners to pay the appropriate duty on their vehicles.
Attah said that some owners of vehicles brought into the country through the land borders, obviously, did not pay duty.
He advised that owners of such vehicles should go and comply by paying the duty on their vehicles.
Attah listed four Customs Zonal offices where authenticity of Customs duty could be verified; such as Zone A Headquarters, No 1, Harvey Road, Yaba, Lagos; and Zone B Headquarters, Kabala Doki, Kaduna.
He mentioned other offices where duty could be verified as: Zone C Headquarters, Port Harcourt and Zone D Headquarters, Yelwa Tudu Road, Bauchi State.
Attah said that any vehicle owner in doubt and not sure of the authenticity of his Customs document, could approach the above zones closest to him to verify.
He said that after the deadline of the given period, Customs would embark on an aggressive anti-smuggling operation to seize vehicles as well as prosecute the owners.