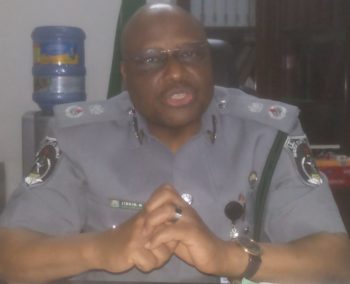 Controller, Apapa Area Command of the Nigeria Customs Service (NCS), Comptroller Jubril Musa has urged clearing agents to learn to be patriotic Nigerians by making genuine declarations and ensure appropriate customs duty are paid on imported goods.
Jubril, who stated this while responding to complaints of incessant alerts and duplication of customs units by members of the International Freight Forwarding Association (IFFA) who paid him a courtesy visit in Lagos on Wednesday, stressed the need for agents to improve on their level of compliance to make way for quick and faster cargo clearance at the ports.
He said, "There must be a general resolve to do things right. In as much as we improve on our complaint level, we find things to become easier for us. Let us think of our country first and foremost before our individual interest.
"All countries that are advanced have an effective taxation system in place. We have countries like Sweden, which has one of the best taxation regimes. You go there and you see their system work better than other European countries.
"This is because people respect to pay little token of what the government say they should pay. So I want to use this medium to draw your attention to the fact that we need to improve on our level of discipline, patriotism, self respect and level of nationalism so that we can move the country forward." 
Jubril said NCS is making effort towards migrating to the advance stage of the Nigeria Integrated Customs Information System 11 (NICIS 11) in response to the need for full automation and computerization of its processes and procedures.
According to him, when the platform is fully launched, it would eliminate human contact and help fast track cargo clearance.
"We have made efforts to make sure we better the system and we have done that by journeying away from analogue way of doing things because that is what allows for man to man contact, allow hard copies of paper to be worked on and to slow down cargo clearance process.
"Since 1995, when we started the journey from ASYCUDA, now NICIS 11 is been launched and piloted in some of the commands. When that is done, there will be speedy clearance of consignment, improvement in compliance, less human contact and improve revenue generation," he said.
Earlier, President of IFFA, Sam Onyemelukwe had highlighted some operational challenges faced by the agents including delays in the process of issuance of the PAAR document, extortion and wrong valuation by officers.
Onyemelukwe advised that to ensure speedy clearance of cargoes no other unit of the customs should contest documents already processed and cleared by the NCS officials at the port.
"IFFA is worried that all the operational bottlenecks culminate to pose mountainous hurdle to effort of the federal government to meet reform targets and make Nigerian ports hub in the sub region," he said.
He appealed to the customs boss to provide conducive places for agents while processing their jobs and to carry them along in decision and implementation of trade processes.