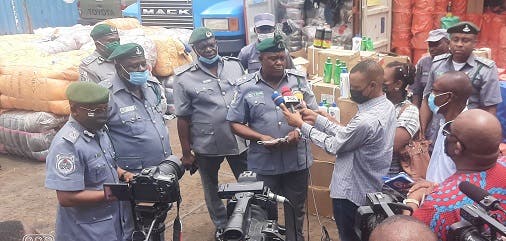 The Strike Force Unit of the Nigeria Customs Service, Zone 'A' said it raised debit notes worth N1billion on duty payment shortfalls from importers and clearing agents in the last three months.
The unit also disclosed that it made seizures of rice that were concealed in car bonnets, booths, engine areas and  used tyres adding that smugglers have also resorted to the use of cattle, camels to smuggle other dangerous goods into the country.
Addressing newsmen in Lagos on Tuesday, Coordinator of the Strike Force Unit, Deputy Comptroller, Ahmadu Bello Shuaibu, said the amount generated would have been lost to smugglers, fraudulent importers and clearing agents who under declared their cargoes at the seaports.
He said the Information Communication Technology (ICT) arm of the unit was able to achieve the recoveries through alert.
Other items seized by the unit he said include printed label materials, used vehicles, used tyres and second out clothing among others.
He said, "The Comptroller General Strike Force Zone 'A' of the Nigeria Customs Service, generated N1.03billion from debit notes on major and minor infractions on cargoes that exited the seaport the Tin-Can Island and Apapa ports.
"Smugglers now endanger the lives of Nigerians by smuggling cargoes through the use of car booths, fuel compartment, tyres, and vehicle engines. These types of rice when seized are regarded as hazardous items."
Also speaking on the rice seizures, the National Public Relations Officer of the NCS, Joseph Attah, said the new method adopted by smugglers is an attempt to beat customs checks as they can no longer make use of trucks to smuggle.
"We have suppressed smuggling to the extent that they no longer make use of big trucks, vehicles, motorcycles to smuggle anymore. They now make use of camels, cattle, donkeys to move them in trickles.
"For instance, the three wonder cars were reconstructed and redesigned for the purpose of smuggling. They are reconstructed to get as much rice as possible. The smugglers can no longer use trucks and motorcycles because they are becoming difficult due to the anti-smuggling drives of our officers," he said.
Attah said the rice stored in engine booths and tyres are not among food items given to the National Agency For Food Drugs Administration and Control (NAFDAC) for certification test before donation to Internally Displaced Persons (IDPs).