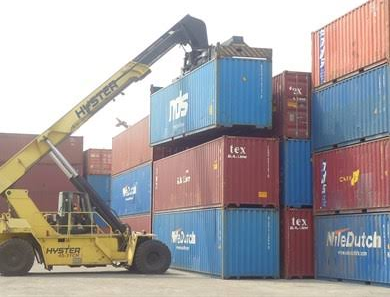 Head of the Ikorodu Terminal Command of the Nigeria Customs Service (NCS), Assistant Controller Kidda H, said that the terminal has so far received no fewer than 700 overtime containers including 1,000 abandoned used vehicles transferred from the various port terminals in Lagos.
Kidda who disclosed this in a chat with SHIPS & PORTS, said the service understands the need to move the overtime containers out of the terminals to open up space for new cargoes at the ports.
He said containers are also being moved through barges from the Lagos ports to the government warehouse from where they would be transferred to designated bonded terminals. This, he said, is part of efforts to decongest the port terminals and the roads.
He said, "So far we have received more than 700 containers transferred while we have over 1,000 used vehicles. Most of the containers are blocking the terminal space, and we understand that the terminals need space for new imports to come in. Barge operation is also ongoing. Some transire containers also go through here to bonded terminals.
"I don't see any logic in importers abandoning containers at the port to enter overtime. Why this happens sometimes is because they (importers) fall into the hands of wrong agents because some of these agents are kelebes, they are not genuine agents and they dupe them. We have proper licensed customs agents who have their respective offices and if tomorrow there is an issue, the importer can trace him to the office.
"If the importers need agents, they should go to their office and not somebody they just meet at the port gate and give money to clear cargoes for them because they think it's cheaper for them to deal with roadside agents. Importers should patronise genuine licensed customs agents," he said.
The Customs boss said while the terminal awaits further directives from the headquarters on clearance of the overtime cargoes, there are plans to reopen the Customs Processing Unit (CPC) at the terminal from where the consignee can take delivery of his cargo.
"The overtime cargoes are just being transferred, no clearance has commenced yet because we are still waiting for directive from the headquarters. If they are going to clear from here, they will open the CPC but we are yet to hear from the headquarters. For now, they just do the transfer of containers," he said.
Kidda also disclosed that the Federal Government, through the Nigerian Ports Authority, has awarded the contract for the reconstruction of the quay apron at the terminal.
"Some portions of the terminal are not good but the Federal Government has given out the contract for the quay apron and they are currently working on it but I don't think the rehabilitation of the bad portion of the terminal is part of the contract. They are just working on the waterfronts so that the quay can carry the weight of containers transferred by barges to the terminal," he said.