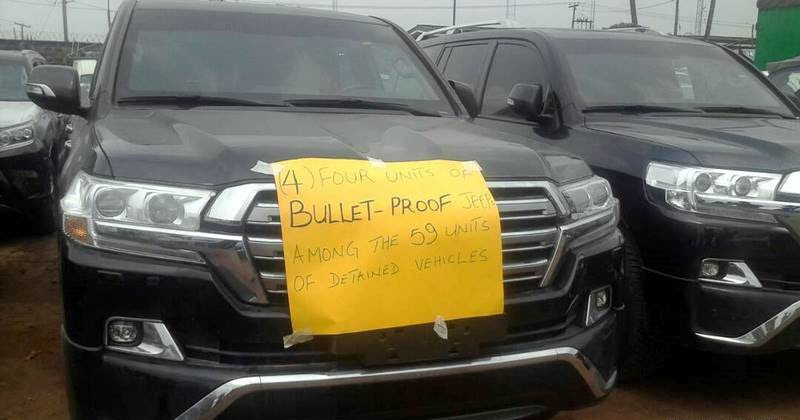 Operatives of the Federal Operations Unit, Zone 'A' of the Nigeria Customs Service have evacuated 51 suspected smuggled exotic vehicles hidden in a house in Ikoyi and eight others displayed for sale at a car shop in Festac.
Controller of the unit, Comptroller Muhammed Uba who disclosed this while addressing newsmen at the Customs warehouse in Ikeja yesterday said the vehicles valued at over N1.079 billion were discovered based on intelligence.
He said 40 of the vehicles were 2017 models ranging from Toyota Prado Jeeps, Lexus Jeeps, Toyota Hilux, Toyota Camry and Toyota Hiace bus among others.  
Uba explained that beyond non- payments of appropriate customs duty, four of the vehicles were bullet proof, which requires clearance from the office of the National Security Adviser before importation.
"We removed 51 of these vehicles in a hidden house in Ikoyi based on intelligence. The other ones were intercepted at a car shop in Festac. Four of the vehicles are bullet proof jeeps and for such vehicles there is need for end user certificate but for some time, the issuance of end user certificate has been on hold," he said.
Uba said in addition to the vehicles, the Unit within a period of one month also seized 6,206 bags of 50 kg of foreign parboiled rice amounting to 10 trailer loads from smugglers at different locations in Lagos and Ogun as well as other contraband items worth over N1.3 billion.
He said some of the bags of rice were concealed with cement and alcoholic beverages in an attempt to evade arrest while two other containers were seized for carrying contraband.
"Two containers were also seized for contravening Customs law. While one of the containers carried used fridges, 270 cartons of sun flower oil, 55 pieces of used gas compressors, 18 packs of juice and other assorted items as against cooking gas declared in the Single Goods Declaration (SGD) form, the other container was carrying 147 bales of printed wax and 168 bales of lace material as against new electronics declared in the SGD," he said.
Uba said six suspects have been arrested in connection with the seizures and would be charged to court for prosecution after conclusion of investigation.
Other items seized by the unit includes 67 bales of second hand clothing, 600 cartons of foreign poultry products, 13 parcels of Indian hemp, 405 pieces of used tyres and 54 kegs of vegetable oils among others.