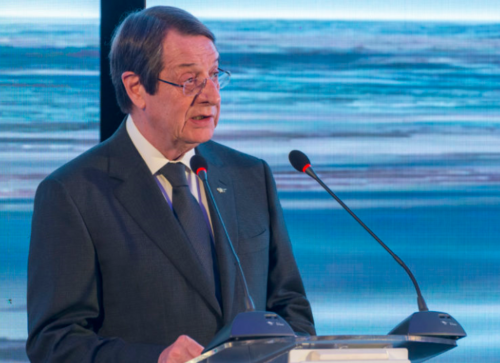 Cyprus will step up efforts to remove 'illegal' restrictions on its ships calling at Turkish ports. That was the message of Cypriot president Nicos Anastasiades at the 30th annual general meeting of the Cyprus Shipping Chamber, held on 30 May, at the Four Seasons hotel, in Limassol.
Anastasiades called the embargo a clear violation of international law, adding "Our efforts to remove these anachronistic and illegal restrictions will be further intensified as they are a clear violation of international law".
The Cypriot President highlighted prospects from the discovery of major hydrocarbon deposits in the region and noted the steady development of the domestic shipping industry despite Turkey's ban.
"Cyprus is one of the most modern and quality international shipping centres, having the eleventh largest fleet in the world and the third in Europe, strategically located, with excellent infrastructure, maritime specialisation, but above all the determination to do all organisational, structural and tax reforms needed for a promising future," he said.
In 2018, 69 new ships were registered in Cyprus, he added, while the number of multinational corporations transferring their base to the island was increasing.
The belief that lifting of the restrictions imposed by Turkey on Cypriot-flagged ships would result in a win-win situation, was also expressd by the chairman of the International Chamber of Shipping (ICS), Esben Poulsson, on May 28. He said the CSC was a "model member" of the ICS and an example of what an effective national shipowners' association should be like.
The Cyprus Shipping Chamber president, Themis Papadopoulos, referred to the importance of lifting the Turkish embargo on Cyprus ships, noting that its lifting would provide a strong force for the further development of the entire Cyprus Maritime Cluster.
In addition, he noted that global shipping faces a crucial crossroad with regards to its future in view of the global shift away from fossil fuels and the pressure of drastic improvements in carbon emissions from the IMO, adding that "the Chamber's long-standing and active participation in both the ICS and ECSA have become more important than ever, as we seek to ensure that the Cyprus shipping industry's voice is clearly heard at all decision-making levels with politicians and regulators"
Copyright Ships & Ports Ltd. Permission to use quotations from this article is granted subject to appropriate credit given to www.shipsandports.com.ng as the source.