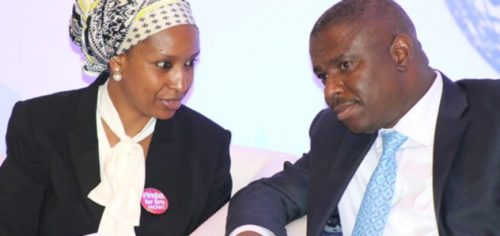 The Managing Director of Nigerian Ports Authority (NPA), Hadiza Bala-Usman; Director-General, Nigerian Maritime Administration and Safety Agency (NIMASA), Dr. Dakuku Peterside and the Comptroller-General of Customs, retired Col. Hameed Ali, are among dignitaries expected at the 2018 National Conference of the Port Facility Security Officers (PFSO) Forum of Nigeria holding in Calabar, Cross River State. 
The Port Facility Security Officers (PFSO) Forum is the body of government and private sector top security officials responsible for the protection of lives and properties at the seaports in Nigeria.
National Chairman of the PFSO Forum, Barrister Emmanuel Onyebadi, in a statement in Lagos today, said the conference, which will hold on 29th and 30th November 2018, has the theme "Integrated Maritime Security Architecture: A Panacea for Economic Growth in Nigeria".
Onyebadi said the event is to provide an avenue for top port security officials to brainstorm of finding ways of improving on security situation at the seaports, terminals and jetties across the country. 
He said the members of the PFSO Forum have maintained a high level of professionalism since the group was formed after Nigeria ratified and complied with the provisions of the International Ships & Ports Facility Security Code (ISPS Code) 14 years ago. 
"The PFSO Forum is evolving. We started with the Lagos Maritime Security zone of the PFSO and grew to have the National Maritime Security zone comprising of both the Lagos and Niger Delta maritime security zones, which gave birth to the PFSO Forum of Nigeria. 
"We now looked at how we can synergize with other countries in the sub-region with a view to combating piracy and sea-robbery from a common security front since we have a common maritime security challenge," Onyebadi said. 
He said other dignitaries expected at the event at the event include the Rector, Maritime Academy of Nigeria, Oron; the Assistant Inspector General of Police in charge of the Maritime Command; Commissioner of Police in charge of the Port Authority Police Command; the Flag Officer Commanding Eastern Naval Command; Port Managers, and the chief executives of various port terminals operating in the country. 
The ISPS Code, which the Port Facility Security Officers (PFSO) are responsible for implementing at the port, is an amendment to the Safety of Life at Sea (SOLAS) Convention on the minimum security arrangements for ships, ports and government agencies. 
Having come into force on July 1, 2004, the ISPS Code prescribes responsibilities to governments, shipping companies, shipboard personnel, and port facility personnel to detect security threats and take preventative measures against security incidents affecting ships or port facilities used in international trade.
It borders on incidents affecting ships or port facilities used in international trade; national and international level for ensuring maritime security to provide a methodology for security assessments so as to have in place plans and procedures to react to changing security levels.
NIMASA is the Designated Authority (DA) for ISPS Code implementation in Nigeria.