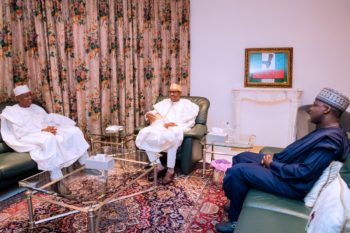 The Speaker of the House of Representatives, Yakubu Dogara, said on Wednesday that President Muhammadu Buhari was planning a reorganisation of the nation's security structure to address ongoing security challenges in parts of the country.
Dogara made this known in an interview with State House correspondents after a meeting he and the President of the Senate, Bukola Saraki, had with Buhari at the Presidential Villa, Abuja.
The speaker, however, did not disclose the details of the re-organisation.
He said, "The President has taken enough steps, these are security issues, they are not matters that you can discuss; but he has told us what he is doing, the re-organisation that he plans to put in place to ensure that this doesn't happen."
Dogara said Buhari briefed them on what he saw first-hand when he visited the troubled state on Tuesday and the measures he was putting in place to forestall a recurrence.
He said, "These are very sober moments for all of us. In a situation where people, in hundreds, continue to be killed, we can no longer tolerate this kind of situation as a government.
"Whatever it is, we must not lose the fight against violence because we can't lose that fight and still keep our civilisation.
"If you go to the North East, you can see the level of devastation caused by Boko Haram. Everything resembling progress from schools to hospitals to government institutions, everything has been pulled down. And we don't want a replication of this all over the country."