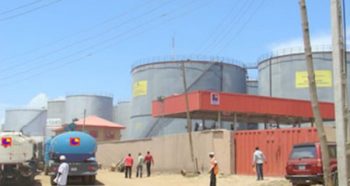 The Department of Petroleum Resources (DPR) has urged petroleum products depot owners against selling to unlicensed marketers.
DRP Warri Zonal Operations Controller, Antai Asuquo made the call on Tuesday in an interview in Warri, Delta State.
He said that the measure would help checkmate fuel diversion to unknown destinations.
Asuquo, who expressed satisfaction that fuel supply had normalised in the state also, warned depot owners against selling to bulk buyers in order to allow registered marketers have access to the products.
He said: "The fuel situation has normalised in Delta, almost all the petrol stations have products and are dispensing at the government approved pump price of N145 per litre.
"Last week, we decided to check their dispensing pumps to ensure they do not shortchange members of the public and about 80 percent of were found to be accurate.
"I want to thank the government for making the product more available, some marketers told me they now buy at the approved ex-depot price."
Asuquo added that the development had initiated competition among the marketers as they now try to woo customers to their outlets.
"Unlicensed marketers and bulk buyers of petroleum products shouldn't have access to them, so that the product can really spread and what we are experiencing now can be sustained.
" The marketers should also not shortchange members of the public by under-dispensing even though they are selling at N145; a litre should be a litre, nothing less.
"They should do the right thing in the interest and benefit of Nigerians."
Asuquo said that about 150 petrol stations were sanctioned for various offences in the state since the fuel scarcity resurfaced in Dec. 2017, over various offences bordering on over-pricing, under-dispensing, hoarding and diversion of products.
"Most of the affected stations have paid their fees. We have started compiling the names of stations that violated our seals during the exercise and tougher sanctions will be meted on them," he said.