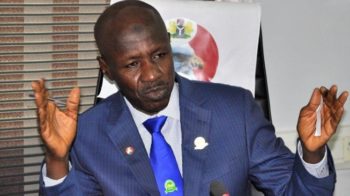 The Acting Chairman, Economic and Financial Crimes Commission (EFCC), Ibrahim Magu, says the anti-graft agency has secured not less than 150 convictions of corrupt individuals from January to June 2018.
Magu made the disclosure at a stakeholders' interactive session at the EFCC Ibadan Zonal Office, Iyaganku, Oyo State.
He said, "For us at the EFCC, we are driven by courage, integrity, professionalism and our commitment to the common task of improving the lot of our people at the grassroots, as we promote working partnership with all of you. Corruption is the number one problem that has militated against the development of Nigeria, especially the very poor at the grassroots. The havoc that corrupt practices have wreaked on the Nigerian economy is endless.
"This is why fighting it to a standstill is not only a must but the only lifesaver for our country, as to save the next generation. I want to restate for the records that, there is no better time to prop up the anti-corruption campaign than now. There are various ways of fighting corruption, which is to sensitise, create awareness, and all that. But I am telling you, the looting must stop. We should not glorify the corrupt. We should not appreciate the corrupt. The ill must stop in the interest of our future generation. We have to find a way to protect their future."
Magu, who was visibly angry at the level of corruption in the country said the agency did not have any sacred cow in its fight, adding that the stakeholders' interactive session was organised in recognition of the important roles, which the stakeholders have all played in assisting the commission to achieve its goal of ridding Nigeria of all forms of corruption.
He said, "Your commitment and outcry against ills of corruption, particularly in the grassroots is a step in the right direction since the people at the grassroots constitute major victims of the menace of corruption anywhere in the world. I am also very much aware that this responsibility and partnership towards complementing Federal Government's efforts to rid corruption in Nigeria, is a social responsibility of all of us in line with the change mantra of the present administration.
"The media owe the people, particularly at the grassroots, the obligation of providing relevant information on the consequences and the negative impact of corruption in the society. We are always ever ready to provide the media with the necessary information to be disseminated to the grassroots on the evil of corruption."
The stakeholders in their separate remarks, however, assure the anti-graft agency of their readiness and support to ensure that the corruption and corrupt tendencies are reported and exposed promptly.