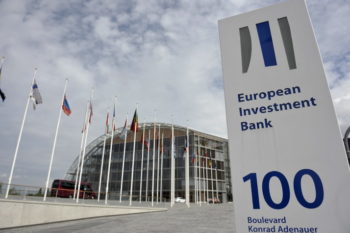 The Regional Representative for West Africa of European Investment Bank (EIB), Isabelle Grunderbeeck, has said the bank plans to invest €700 million in some identified projects in Nigeria.
She made this known at the bank's interactive meeting with its clients and other stakeholders in Abuja on Tuesday.
Grunderbeeck noted that the planned investment was in addition to the fund already committed to the Nigerian economy.
She said, "EIB is currently identifying new projects for a total amount of €700 million on top of the funds already committed.
"We finance large infrastructure project, and we are also an important financier of climate, and are looking into the renewable energy sector of the economy."
Grunderbeeck said that the bank had so far invested €296 million in Small, Medium Enterprises (SMEs) in Nigeria in the last eight years and had also invested €87 million in 65 companies through the investment funds.
She said, " Since 2010, EIB disbursed 296 million euros under seven facilities signed with nine Nigerian banks and €210 million for 50 sub-projects disbursed to be on-lent in foreign currency.
"Average allocation amount per project was €4.5 million.
"It was spent on wholesale and retail trade, education, manufacturing, construction, transportation, accommodation, human health, information and communication, electricity and gas, agriculture, scientific and technical activities.
"In 2018, EIB disbursed €17 million equity participation in Development Bank of Nigeria funding intermediaries for on lending to Micro Small and Medium Enterprises in local currency."
The EU Ambassador to Nigeria and ECOWAS, Ketil Karlsen described the bank's investment in Nigeria as valuable addition to the existing cooperation between the EU and Nigeria.
Karlsen said that Nigeria had the largest EIB investments in the African Caribbean and Pacific (ACP) countries.
"With development cooperation through policy dialogue and many efforts, the biggest investment bank in the world is engaging more decisively with Nigeria; this is a wonderful progress that we are seeing now.
"If you look at the figure and the continuous engagement of the bank in Nigeria and its increasing portfolio, Nigeria is number one country in the ACP that is having the bank's support for private businesses.
"And we are doing this in order to find a lasting solution to the migration problem in the country; the bank is creating opportunity for the youth in the country to be engaged.
"The investment will help to address the challenge of migration and to provide long-term solution to the irregular migration issue, this is the best opportunity," he said.