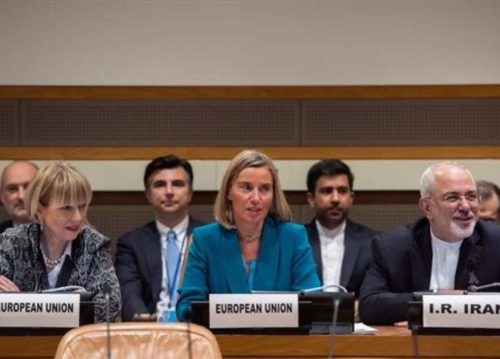 The European Union (EU), China and Russia plan to keep their trade relations with Iran despite the recent withdrawal of the United States from the nuclear deal.
Following a ministerial meeting of the E3/EU+2 and the Islamic Republic of Iran, held on Monday in New York, signatories of the Joint Comprehensive Plan of Action (JCPOA) agreed to the full and effective implementation of the agreement in all its aspects.
The parties said that they were working on concrete measures to secure payment channels with Iran, and continue Iran's export of oil and gas condensate, petroleum products and petrochemicals.
As a result of the latest development, the countries have agreed to establish a Special Purpose Vehicle to facilitate payments related to Iran's exports including oil and imports.
The goal is to keep Iran in the nuclear deal by helping to maintain its economy afloat, through enabling it to keep its renewed trade ties alive.
According to the EU High Representative for Foreign Affairs and Security Policy, Federica Mogherini, "The aim of the vehicle is to assist and reassure economic operators pursuing legitimate business with Iran." 
She said the decision was taken "following extensive exchanges we had since the Joint Commission Ministerial Meeting on 6 July. Now another meeting of technical experts from Member States will be convened to take this work forward and operationalise the Special Purpose Vehicle at the technical level". 
"In practical terms this will mean that EU Member States will set up a legal entity to facilitate legitimate financial transactions with Iran and this will allow European companies to continue trade with Iran, in accordance with European Union law, and could be opened to other partners in the world. You will get more technical information about that, as the technical work continues in the coming days," she added. 
In May this year the U.S. Government announced its plans to reimpose sanctions on Iran, in line with the decision of the country's president Donald Trump to withdraw from the Iran Nuclear Deal.
Iranian companies that are facing the new wave of sanctions following the 180-day wind-down period ending on November 4, 2018 are the Islamic Republic of Iran Shipping Lines (IRISL), South Shipping Line Iran, or their affiliates.
Sanctions will also be imposed on petroleum-related transactions with the National Iranian Oil Company (NIOC), Naftiran Intertrade Company (NICO), and National Iranian Tanker Company (NITC), including the purchase of petroleum, petroleum products, or petrochemical products from Iran, the Treasury Office informed.
Iranian energy and financial sectors are also being targeted by the sanctions.
Companies that trade in U.S. dollars or have operations there cannot afford themselves to lose a share of the U.S. market, hence, they are likely to end their ties to Iran as a consequence.
As a result, shipping giants led by Maersk Line, MSC and CMA CGM started puling out from Iran.
In addition, Greek shipowners who dominate Iranian exports are most likely to be affected by the upcoming US sanctions on Iranian ports, shipping and energy sectors.