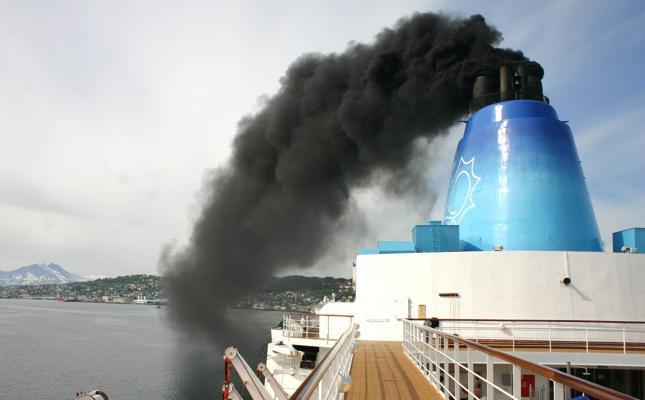 The person charged with overseeing controversial new rules on shipping fuel says he's growing increasingly confident the regulations will be implemented on time, and that the vast majority of vessel owners will comply.
From Jan. 1, 2020, most of the merchant fleet will have to burn fuel containing less sulfur than it does today under rules set out by the International Maritime Organization, part of the United Nations. There's been some speculation that the regulations might get delayed, since they're expected to affect everything from oil prices to world trade. The IMO's not budging.
"It's very important we go forward and give people confidence that the implementation date will go ahead," Edmund Hughes, head of air pollution and energy efficiency at the IMO's marine environment division, said in an interview in Singapore.
Both the refining and shipping industries have stepped up their efforts to get ready in the past year, and for that reason Hughes said he's more confident the industry's fuel upgrade will be a success.
Any delay would damage the IMO's reputation and credibility as a rule-making body, Hughes said Tuesday at the Asia Pacific Petroleum Conference. It would also would create significant uncertainty for all sectors.
More than 80 percent of world trade occurs on the world's oceans, according to the UN, and the IMO's changes are designed to reduce air pollution that has been linked to health issues including asthma and environmental hazards like acid rain. The rules are also creating an upheaval in the fuel market, causing the price of IMO-compliant fuel to spike, making transport more expensive and threatening to strain the capacity of some refineries.
Shipping trade groups, along with four states where thousands of vessels are registered, are proposing a phased start when the new fuel regime gets underway, citing safety concerns. Under the rules, vessels will have to burn fuel with 0.5 percent sulfur, down from 3.5 percent in most parts of the world today. Alternatively, owners can fit ships with so-called scrubbers to remove the pollutant before it's emitted.
Questions remain, though, as to whether the refining industry can safely produce enough of the correct fuels. The purchase of incompatible fuels could damage ships engines, according to the International Association of Independent Tanker Owners, the trade group known as Intertanko, as well as several companies that own vessels.
Based on the IMO's broad membership and the countries that signed on to the ban — covering the vast majority of the world's merchant fleet — the compliance rate could be as high as 96 percent, according to Hughes.
Ships that are found to have non-compliant fuel on board can expect to be targeted for repeat inspections until they can demonstrate adherence, he said. From March 2020 at the earliest, there will also likely be a ban on ships' fuel tanks holding non-compliant products, which he noted may help governments to penalize any vessels that are persistently cheating.
It will be the responsibility of flag states — often small countries where ships are registered — to enforce the new rules until such time as the fuel-carriage ban is implemented, according to Hughes. After that, port states will take over enforcement.
"I can't guarantee 100 percent compliance," he said. "But it is very important that the shipping sector and port states understand compliance is not sort of an option, it is something you need to do."
Copyright Ships & Ports Ltd. Permission to use quotations from this article is granted subject to appropriate credit given to www.shipsandports.com.ng as the source.