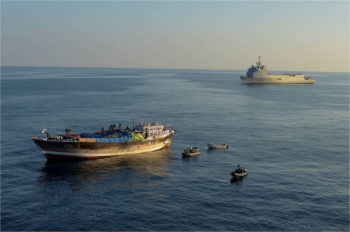 The European Union Naval Force (EU NAVFOR) on Friday marked the ninth anniversary of its Operation Atalanta, the successful counter-piracy operation that has greatly contributed to curbing Somali-based piracy off the Horn of Africa and in the Western Indian Ocean.
During the past eight years, Operation Atalanta's mission has been focussed on four main aspects. First, it protects vessels of the World Food Programme and African Union Mission (AMISOM) to Somalia through close escort protection by EU NAVFOR warships. It also is set up to deter and disrupt piracy and armed robbery at sea within the Gulf of Aden and along the Somalia Coast, and has the authority to arrest, detain and transfer persons suspected of intending to commit, committing, or having committed acts of piracy or armed robbery at sea. EU NAVFOR's mission also includes protecting the variety merchant ships transiting through the busy and precarious sea lanes in the region. Finally, EU NAVFOR assets monitor fishing activities off the coast of Somalia.
Notable achievements have included the establishment of the International Recognised Transit Corridor in the Gulf of Aden. Other positive developments include International agreements that allow regional prosecution of pirates from Kenya and Seychelles and other states as well as the Shared Awareness and De-confliction Conferences (SHADE) that have been extremely successful in bringing together national navies not normally associated with the EU, NATO or the Combined Maritime Force (CMF).
The operation has also played a critical role reducing acts of piracy and preventing attacks before they happen.
At the height of Somali piracy in January 2011, 736 hostages and 32 ships were being held by pirates. By October 2016, however, those numbers have dropped zero thanks in part to the international naval forces patrolling the area and use of armed guards on merchant vessels.
According to EU NAVFOR's website, since 2008 its assets have disrupted 136 acts of piracy. The website defines a disruption as an action that renders a pirate group incapable of further pirate operation.
The operation also boasts a 100% success rate in providing protection to WFP and AMISOM vessels. EU NAVFOR has also conducted and supported numerous Safety of Life at Sea (SOLAS) rescue missions in the area, helping local, regional and international trading and fishing vessels in distress.
The ninth anniversary comes soon after EU NAVFOR successfully apprehended, detained and transferred suspected pirates for judicial process in the Seychelles.
In November 2016, the Council of the EU extended the Mandate of Operation ATALANTA until December 2018. 
Copyright Ships & Ports Ltd. Permission to use quotations from this article is granted subject to appropriate credit given to www.shipsandports.com.ng as the source.