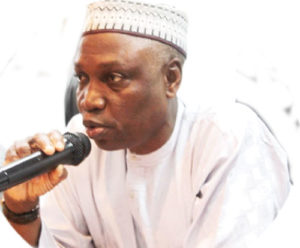 The Managing Director, Federal Airports Authority of Nigeria (FAAN), Saleh Dunoma, on Monday, revealed the agency generated N38 billion from Passenger Service Charges (PSC) in 2017.
Dunoma who made this known while briefing journalist in Lagos, also announced the hosting of the 59th Airport Council International (ACI) Regional Conference by FAAN.
He said: "FAAN generated N38 billion from Passenger Service Charges in 2017, although passenger traffic dropped.
"The automated car park at the General Aviation Terminal of the Murtala Muhammed International Airport, Lagos has increased FAAN revenue by 68 percent. "
Dunoma, who is also the President of ACI-Africa, said African airports must position for increased passenger volume, particularly business travellers and tourists.
He said the continent saw a nine percent increase in tourism in 2017, the highest increase in any region.
According to him, ACI-Africa, an association of Africa's airports, is part of the Airport Council International (ACI), the global trade representative of airport authorities throughout the world.
The FAAN boss said with over 50 members operating 250 airports in 47 countries throughout the continent, ACI was the voice of African airports – leading, representing and serving the African airport community.
He said the conference, which would hold from April 14 to April 20 in Lagos, was coming up a few months after 23 African countries signed the Single African Air Travel Market (SAATM) in Addis Ababa, Ethiopia.
Dunoma described the SAATM as having the potential to transform and revolutionise aviation business on the continent.
He said: "According to the International Air Transport Association (IATA), an open skies agreement among Africa's 12 biggest economies could see passenger traffic soar by 81 percent to about 11 million.
"It could generate 155,000 new jobs, adding $1.3 billion to Gross Domestic Product (GDP). It is estimated that SAATM could provide 17,400 jobs in Nigeria and contribute $128 million to our GDP.
"SAATM is an indication that change is in the air – less than 20 percent of revenues African airports generate is commercial. African airports must transform to embrace this change."
Dunoma said the theme chosen for the conference "Business Transformation for Sustainable Development of African Airports", was apt.
"A greater focus on customer service guarantees improved profitability, optimal use of infrastructure and sustainability of the business
"Among other things, the conference will push for a change in the perception of business in African airports.
"A change in how the business of African airports is viewed is necessary to realise the vaunted benefits of SAATM.
"Alongside the meetings and conference, airports, service providers and aviation companies will exhibit their products and services at a large-scale exhibition," Dunoma said.