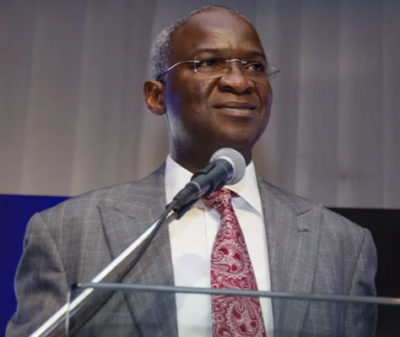 The Minister of Works and Housing, Babatunde Fashola, has said that the intractable traffic chaos in Apapa, Lagos, is not caused by poor road.
Speaking during a session at the 2021 Lagos 'Ehingbeti' Economic Summit on Wednesday, Fashola said the situation is caused by "those trying to frustrate other citizens".
He said some residents moved into an "inefficient area" and decided to make life difficult for those engaging in legitimate businesses.
"If you understudy Apapa properly, you will see that the biggest contributing factor there is not the poor condition of the road. People have just moved into an inefficient area and are making life difficult for those who want to do legitimate business, so they must be removed.
"Government must step up and say 'no, you can't prosper on the back of those doing legitimate business while undertaking an illegal activity'. So government must reoccupy those spaces, the former Lagos State Governor said.
Fashola also called for improved database to tackle insecurity and boost economic development.
He said urged the state government to continue the residents registration exercise started by his administration.
The minister said government must step up action on enforcing law and order while punishing perpetrators of crime.
"The Lagos State residence registration exercise must continue so we can know who the residents are. Those are part of the law enforcement infrastructure. Street lightening, police patrol, prompt dispensation of justice, it's a whole pack.
"People must understand that this is a city where we can only prosper when we are on the side of the law. Those who then choose to live outside the law, we must make it difficult for them," he said.