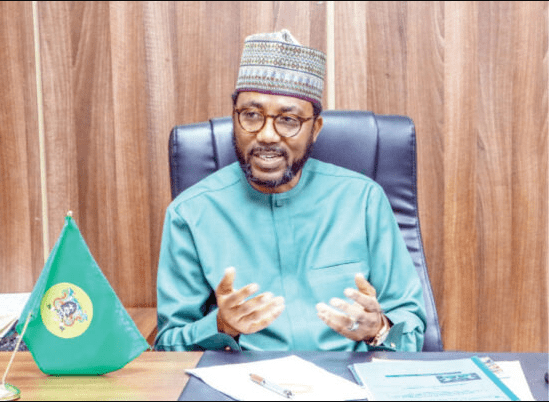 In this interview, the Acting Managing Director of Nigerian Ports Authority (NPA), Mr. Mohammed Bello-Koko, speaks on the various efforts by the agency to rid the ports of overtime cargoes, free the port access roads and facilitate non-oil exports. 
What efforts are you making to boost port operations in the country? 
We are engaging the terminal operators, especially the ones here in Lagos to see how the ports can be reconstructed. It is either the terminal operators reconstruct the berth and other physical structures and the contract sum is amortized over time or we explore the option of accessing funds from multilateral financial institutions. We have had discussions with the French Development Bank (AFD), African Development Bank, European Investment Bank (EIB), and Sanlam Infraworks (a CBN approved fund manager for Infracorp) amongst others.
Tin Can port for instance has been overtaken by population explosion and needs to be reconstructed. Same thing goes for Rivers port, which is over 100 years old and has actually reached the end of its productive lifecycle. It is pertinent to mention that the channels cannot be dredged below their current draft because of restriction imposed by the initial engineering design of the berths.
We are also grappling with cases of vandalization, for instance in Rivers port, where suspected vandals resident in the host community deploy welding equipment to cut the beams supporting the quay aprons. The Marine Police have been doing a good job by trying to put a stop to these nefarious activities usually perpetrated at odd hours.
On assumption of duty, one of the first things I did was to pay attention to the issue of gridlock in Tin can/Apapa axis. The Authority had in partnership with Truck Transit Park Ltd deployed an electronic software code named eto, which has not yet been optimized because TTP has not completed deployment of the critical operational infrastructure such as security barriers and others facilities as at the time I visited, and I issued stern instructions for expedited deployment which has been complied with. Arising from feedback from the public, we realized that there was need to tweak the application. For instance, we are working with TTP to ensure that the trucks that go into the port to drop containers are also able to bring out cargo from the port. That way trucks that go in to drop cargo do not return empty thus reducing the number of trucks traversing the ports access roads. We also enforce the minimum safety standard of trucks to ensure the quality of trucks that go into the port, because broken down trucks on that axis cause most of the congestions.
So, things are improving, we have been publishing the number of trucks that go into those port locations on a weekly basis and you can find this information on all our social media platforms. This data gives you an idea of the number and types of trucks. In addition, in a bid to encourage export, which for me is very important for the economy because it improves the Gross Domestic Product (GDP) and foreign exchange inflow, we have approved the setting up of an export terminal at Lilypond. The essence here is to ease the access to the port by the exporters. We have also published for people to express interest in setting up of export processing terminals. We would be setting up about 10 of them within Lagos and the neighboring states. The essence here is to encourage exporters to, first, take their goods, which are mostly agricultural, to these locations. We hope that whoever gets those (export processing terminals) will look at the value chain and take advantage of it because those terminals should eventually be able to provide processing, packaging and allied services. These export terminals, which will have relevant agencies present will serve as a one-stop shop for all export related documentation, thus eliminating delays.
In keeping with our resolve to maximize the benefits of multi-modalism, we have encouraged the use of barges. This is also to reduce congestion and pressure on our roads. You can see there are many barging activities ongoing and it has really assisted in reducing the evacuation of containers by road.
What we have now realized is that many of the barges do not meet up with the safety standard that we require, so we have held a meeting with the Barge Operators and there is a Standard Operating Procedure (SOP), which contains irreducible minimum safety standards that the barge operators must meet.
To curtail the incidence of barge accidents along the channels, barge licenses that do not meet up with our safety standards will be withdrawn. It is now mandatory for barges to have communication equipment. The incidences of barges moving at night or double banking must also stop because of safety issues. We will also be introducing tariffs on barge operations in order to increase accruable revenue to Government. 
We have also not relented in efforts aimed at fixing the ports access roads and we have been liaising with the Federal Ministry of Works to ensure that those roads are fixed and they have been very cooperative. We have been in touch with Hi-tech Infrastructure Company.
What are the issues and challenges around overtime cargo at the ports? 
The terminal operators usually declare a cargo as overtime if it has not been cleared after 90 days. We currently have over 6,000 containers across the ports, including Ikorodu and then I believe we have over 1800 vehicles in Ikorodu and other locations, and some of them have been there for 10 years. A few have been there for probably 15 years, and it is not just one location; Onne is beginning to have that problem. All of a sudden Onne port now has a large number of overtime containers also, but the ports here in Lagos have most of them.
The problem has been there before the current Comptroller General of Customs came in. In fact, I was made to understand that there were some containers that were seized since 1977 FESTAC and as at last year, those containers were there. I do not know if they have been cleared now.
We have written to the Nigeria Customs Service to speed up the process of auctioning these containers. Imagine 6,000 containers; they are really occupying large space. Ikorodu terminal was designated as a location for evacuation of overtime cargo but the terminal is now filled up. So, there is actually no space to move in more containers and we have written to the Customs about this situation. I believe they must have started the process of auctioning some of these containers. It will also reduce congestion and free up space for other containers to come in there. The terminal operators are also complaining about these overtime cargoes.
What is the update on the renewal of concession agreements? 
At the time of concession in 2006, there was a development plan put in place, which was part of the concession agreement. We have a monitoring and compliance department then which is now called monitoring and regulatory services. They look at the performance of these terminals on a monthly basis and come up with reports quarterly. So even before or near the expiry of the concession, observed lapses are communicated to the terminal operators.
As of 2006, what was in the agreement as part of the development plan, they have met it. Whether it is the number of cranes, equipment or increase in the stacking area, etc, they have met all that. As for the renewal of the agreement, do not forget it is a process. They need to express interest and after that NPA would set up an in-house committee that involve both Public Private Partnership, Engineering Division, Monitoring and Regulatory Services, among others.
They need to do their business case and the financial model. We are working with ICRC. The ministry has set up an inter-ministerial committee to review submissions that has been made. A transaction adviser has been appointed and the Outline Business Case (OBC) has been sent to ICRC and we are waiting for certification and approval from ICRC. I believe shortly the necessary approvals would be given. The ministry had given approval initially to go ahead and continue with the process of renewal. There were two options; it is either you advertise and ask new interested parties to bid for it or give the existing concessionaires the right to first-refusal, but you give them certain conditions also. The second option was adopted and that is what we are working on now.
Is the contribution of the maritime sector to the GDP sufficiently captured by the National Bureau of Statistics (NBS)?  
Some of our activities have been fragmented and sent into other sectors. For some of our activities, I do not want to use the word informal but our contributions are there but not properly recorded. That is what I believe because it has been pulled out and attributed to other sectors. So what we have done as agencies in the maritime industry is to start working together. The CEOs of the various maritime agencies are working together to ensure that our contribution is really recognized. I am sure we are good contributors to the GDP of this country. Our value chain in terms of business is wide ranging. There is a meeting we are having between the Managing Directors of the various maritime agencies. We also have a Memorandum of Understanding with the Statistician General of the Federation to ensure that this is addressed. We will follow up to ensure that it is taken care of going forward. 
Copyright Ships & Ports Ltd. Permission to use quotations from this article is granted subject to appropriate credit given to www.shipsandports.com.ng as the source.