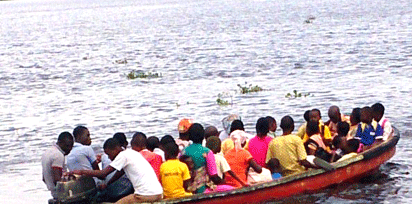 Some passengers travelling on ferries within the Lagos metropolis endanger their lives by neglecting the use of life jackets.
Despite efforts made by the National Inland Waterways Authority (NIWA) and the Lagos State Government to enforce safety standards on the waterways, some ferry passengers still believe that the use of jackets while traveling is unnecessary.
A trip from CMS to Apapa by SHIPS & PORTS correspondent also revealed that while some boat operators on the route enforced the use of lifejackets, others were nonchalant about it.
Most of the passengers who shunned the use of the lifejackets said the ones handed out to them by boat operators were too dirty to wear, even as some of the boat operators blame the passengers for shunning the use of life jackets.
There have been incidents of boats mishaps in Lagos leading to loss of several lives. NIWA and Lagos State Waterways Authority (LASWA) officials have mostly blamed the high casualties resulting from such mishaps on lack of use of life jackets.
On September 29, 2018, a boat, travelling from CMS and to Ikorodu, capsized leading to the death of at least five people. Most of the deceased were said were not putting on life jackets, according to waterways officials.
Also, a passenger boat collided with another boat on November 8, 2018, leading to the death of 8 passengers while 12 passengers were rescued.
Also on July 2,2015, another boat capsized at Irawe area of Ojo, Lagos State. The boat was conveying 14 schoolchildren before it capsized. Six of the children drowned while eight others and the boat driver were rescued.