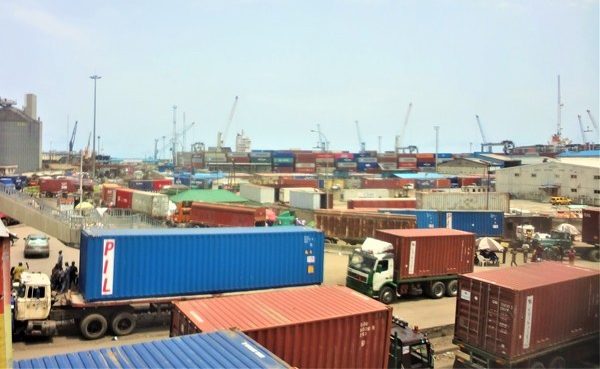 The Federal Ministry of Works, Power and Housing has confirmed that it has concessioned the truck park at the second gate of Tin Can Island Port to a private firm, as earlier reported by SHIPS & PORTS. 
The Federal Controller of Works in Lagos, Kayode Popoola, told our correspondent on Wednesday that the Federal Government is working to finalise the concession agreement on the modalities for the management of the facility especially on how revenue incurred by government in constructing the park would be recouped.
Popoola noted that while the shoreline protection of the park has been completed, the opening of the facility for movement of trucks is being delayed due to the absence of streetlights and other infrastructures.
He said, "We are still in the process of finalising it (the agreement). The park is a government property, which a private organization wants to manage so there must be an agreement on how to run the place. The agreement has not been concluded.
"The concessionaire cannot just be running the place and charging the trailers while the government is spending the money on it. So, we need to conclude on how the firm will pay back the expenses incurred by government. So those are the things that are being worked out at the higher level.
"Apart from that, there are some outstanding works to be done there. For example, the streetlights need to lighten the place has not been finished, so we still need little time before we can conclude that. The shoreline protection has been completed. The major thing is just to finalise the agreement on the mode of payment."
Popoola assured that under the concession arrangement, the issue of extortion of truck drivers will be a thing of the past as there would be an agreed amount that the truckers would be charged and the amount to be remitted to government.
"There won't be any extortion. Once the management is running the place, there would be agreement on amount they will be charging the truckers and how much they will be remitting. It is a decision government has taken that the park has to be privatized," he said.
Speaking on the closure of the Alaka/Costain Bridge, Popoola said the construction work was delayed due to the COVID-19 pandemic and the need to adhere to preventive measures put in place to contain the spread of the virus.
According to him, "Construction work requires a lot of people, not just five or ten people, it is always in multiples. With the gradual easing of the lockdown, we have requested for the permission to work and I am sure by Monday, we will get a definite answer from Julius Berger.
"The easing of the lockdown is a gradual thing and we too are worried with the gridlock motorists will begin to experience but government don't want crowd, and construction work requires getting more people on site. We want to appeal to motorist to still bear with us."