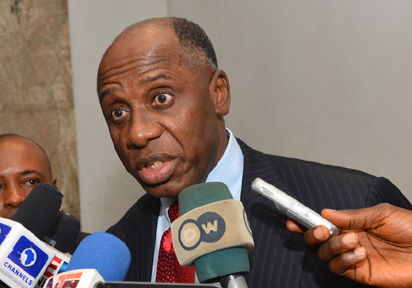 The Director General, Nigerian Maritime Administration and Safety Agency (NIMASA) Dakuku Peterside, says the Federal Government has reinstated the controversial maritime security contract, three months after it announced terminating it.
The security contract being championed by the Transportation Minister, Rotimi Amaechi, was awarded to an Isreali firm, HLSL Security Systems and Technologies at the cost of $195 million (about N60 billion) to procure security equipment and train Nigerian security personnel to tackle crimes on the nation's waters.
President Muhammadu Buhari, had however in May announced the cancellation of the contract via a memo dispatched by his Chief of Staff, Abba Kyari. 
The President, in the memo, directed the Attorney General of the Federation, Abubakar Malami, to terminate the contract with immediate effect.
He also ordered the National Security Adviser (NSA) and the Nigerian Intelligence Agency (NIA) to investigate how the contractor obtained security clearance for the job without an end user certificate.
President Buhari had also ordered HLSI Security Systems and Technologies to supply items equivalent to the $50 million upfront payment it received from government.
But speaking while fielding questions from journalists in Lagos on Wednesday, the NIMASA DG said the contract was initially stalled as a result of investigation on the status of the firm.
According to Peterside, the firm has since been given clean bill of health to proceed with the contract after the conclusion of the investigation.
He said, "At some point, there were issues raised about the status of the firm and indeed the President directed that further investigations be made on the status and record of the firm. 
"The status of the firm had been investigated earlier but new information came up and based on that, the President directed that the firm be further investigated. The firm was further investigated and given a clean bill of health and of course, we are on with the project.
"It was a contractor financed programme. They are supposed to deliver a number of security items including special mission vessels, special mission aircraft, helicopters, command and control centre and retrain a number of our military personnel. That contract is still in place. Nobody has cancelled the contract."
Peterside explained that the contract awarded to HLSL was not to take over maritime security in Nigeria but to train and complement the effort of the nation's security personnel.
"For us tackling maritime crime is a top priority issue which can never be ignored. Maritime security does not put the country in a good light in the international community so I can say emphatically that the program is still on," he added.