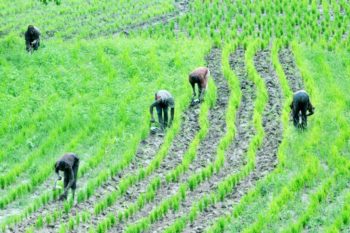 Federal government is to provide one million metric tons of fertilizers for wet-season farmers across the country by March this year, the National President of the Fertilizer Suppliers and Producers Association of Nigeria (FESPAN), Thomas Etuh has said.
Etuh, who is also member of the Presidential Committee on Fertilizer Initiative, said a bag of both NPK and urea fertilizer would be sold to farmers at N5,500.
Etuh explained that members of the committee were in Kano state as part of their assessment tour to the 36 fertilizer companies in the country.
"The aim of the initiative is to encourage local production of fertilizer in order to create more job opportunities for Nigerians, induce reduction of inflation and reduce foreign exchange. We have 63 per cent of the raw materials needed for fertilizer production. We are to import only 37 per cent to our local producers," he said.
He said the FG has promised to provide enough raw materials to the local producers, saying "we are touring the 36 fertilizer companies in the country to find out the companies that are fit to produce fertilizer for our farmers."
A representative of Nigeria Sovereign Investment Authority (NSIA), one of the financier companies, Uche Orji, said he was impressed by the commitment of Al-Yum Fertilizer and Chemicals (A F & C) formerly NAGARI fertilizer.
The Chairman, A F & C fertilizer, Aliyu Yusuf assured federal government of quality fertilizer, saying NAGARI is a well-known product all over the country.
Yusuf said the company will comply with federal government's directives, stressing that "going by the federal government's plans on fertilizer production, the problem of shortage of fertilizer would be thing of the past in the country."
He warned workers in the company not to involve in any act capable of destroying the name of the company, as according to him the management of A F & C would not hesitate to punish any worker caught in making substandard fertilizer in the company.
"We will work closely with the federal government to address the problems associated with provision of fertilizer in the country. The FG has come up with good plans and we are ready to support government so that enough fertilizer would be supplied to our farmers in all farming seasons," he assured.