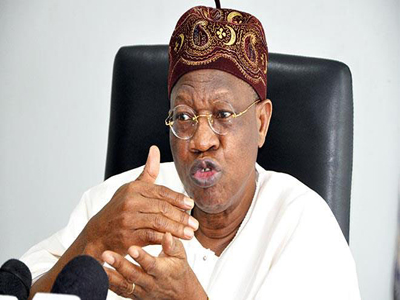 The Minister of Information and Culture, Alhaji Lai Mohammed, on Wednesday said the Federal Government was yet to decide on sale of any national asset.
He said it was immaterial that the National Economic Council (NEC) chaired by Vice President Yemi Osinbajo last Thursday supported measures including plans to generate immediate larger injection of fund into the economy through asset sales, advance payment of license renewals, infrastructure concessioning and use of recovered funds to reduce funding gaps and implementation of fiscal stimulus/budget priorities.
The final decision on assets sale, he said, will only be taken by the Federal Executive Council (FEC).
He spoke with State House correspondents at the end of FEC meeting presided over by President Muhammadu Buhari.
Mohammed was accompanied by the Minister of Water Resources, Sulaiman Adamu.
"Government is still working on the most comprehensive manner to reflate the economy and the government will make its position known very soon.
"What the government will do is to reflate the economy, everything you have heard so far is just suggestion, until the government makes its position known. All these reports of assets sale, assets leasing and whatever is being bandied about, are nothing but speculations.
"The government is yet to come out with its position on how to bail out the economy and it will take that position.
"NEC will recommend but it is the Federal Executive Council that will decide and what we decide will be the position of government," he said.