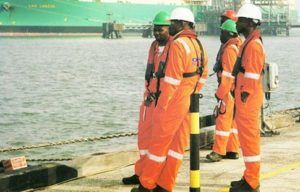 Foreign vessels operating in Nigerian cabotage areas are taking advantage of lapses in cabotage trade enforcement and naivety of regulators to manipulate crewing and vessel manning documents in a way that helps them maintain most of their foreign seafarers onboard while trading in Nigeria's cabotage waters.
SHIPS & PORTS DAILY gathered that foreign shipowners who are bent on taking full advantage of all available waivers in all aspects covered by the Coastal and Inland Shipping Act of 2003, otherwise known as the Cabotage Act, often go beyond the provisions of the law as covered in waivers to shield information and manipulate their crewing documents so that they will not have to employ Nigerian seafarers onboard the foreign vessels.
The cabotage law requires that vessels operating in the brown waters are largely manned by local seafarers. Aware of the weaknesses of the regulators, usually, the foreign ship captains would feed in roles and designations that sound highly technical while presenting their crewing documents to the Nigerian Maritime Administration and Safety Agency (NIMASA). The agency would then have no option than to let such officers remain with the vessel.
Narrating a rather usual experience, a manning agent, Ugo Nwokolo told SHIPS & PORTS DAILY, "I met another shipowner and this is very interesting. I was in the man's office and he was telling one of his managers to "do it the usual way we do it." He is a foreigner that has been in Nigeria for long. He was actually instructing his manager to put one uncommon designation, and they put that bogus name for a role that could attract waiver, so that when it is being presented at NIMASA, the agency will say we don't have such personnel and then they will now have to retain their own foreign personnel.
"They usually put some job roles that sound quite technical so that when they present it to the regulator, most times the agency will just allow their own officer to stay in the vessel. All this happen because NIMASA has not gone to say, you in this new position, what is your job? What are you specifically doing? Let us have the crew list; let us see the crew and let us see your certificates of competence that you are using to work; let us know if we also have people that have this competence. The agency only relies on the papers they see. Sometimes these papers are doctored and manipulated."
Hundreds of thousands of Nigerian seafarers continue to remain jobless in a country that has one of the biggest maritime and shipping potential in the world, parading a whopping 870 kilometres of coastal area and importing over 80 per cent of her people's total needs.
Director-General of NIMASA, Dr Dakuku Peterside in September said the agency's zonal operations would be provided with fast moving platforms to aid enforcement operatives, but one month after, the platforms have yet to be acquired and there have been no indications of the agency's actions in this regard.
Dakuku however told our correspondent that the agency had sent a proposal for the acquisition of six of such platforms to the Ministry of Transportation, maintain that the agency is awaiting approval from the ministry.
Nwokolo said foreign vessels manipulation of crewing and vessel manning documents in order to maintain foreign seafarers has been an age-long practice and remained unchecked due to weak enforcement of cabotage trade laws.
"I have seen this happen a lot of times. On one occasion, the captain confirmed to me that he had just one local seafarer onboard and that was an officer, but others are ratings and other cadres of officers working in engine room and deck and they were all foreigners. And the captain told me that no enforcement officer had told him anything regarding the country's cabotage requirements and showed willingness to disembark his foreign crew and change them with local personnel. He actually explained that he didn't know it was an issue working with foreign crew and that he had no problems changing them.
"Yes, but if the regulators, especially the Nigerian Maritime Administration and Safety Agency (NIMASA) can go for inspection as a port state inspector, they will comply with our cabotage regulations. The agency is supposed to have inspectors that go to vessels to check what is happening—if the vessels are registered for cabotage business in Nigeria. It is not just enough to stay in the office and approve documents, but rather, they should be able to a step out to say let us see the vessel because some of these ship captains can be funny.
"From what I can see, it is a matter of enforcement. If they see the hammer coming down on them, they will comply. Most of them know and are ready, but they are only waiting to be pushed to comply. For instance, how did I get to know about the example I cited earlier? How I got to know was that as they were coming, the ship captain already contacted us to provide some seafarers. But we will have to first send them the resume of the seafarers and they will approve them to go on board. But when they arrived, they saw that there was nothing on ground to compel to change crew. So they would say why do we need to change? They called us because they had the understanding that when they arrive, there would be cabotage enforcement officers on ground, but when they came, there were none. So, why would they need to begin to observe cabotage regulations when they have no one to bother them or to push them to do so? So, they dropped our seafarers and continued the way they came," Nwokolo explained.
Copyright 2016 Ships & Ports Ltd. Permission to use quotations from this article is granted subject to appropriate credit given to www.shipsandports.com.ng as the source.