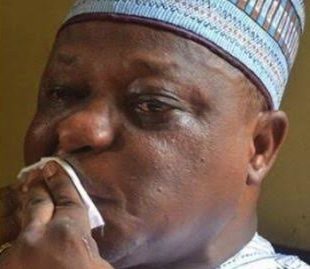 By Ace Omozuwa
In the last few weeks, a former governor of Taraba state, Jolly Nyame, and a former governor of Plateau state, Joshua Dariye were sent to prison. Joshua Dariye was accused of embezzling N1.162 billion ecological funds belonging to Plateau state. On the other hand, Jolly Nyame was sentenced for allegedly diverting N1.64 billion in May 2007. Ironically, Joshua Dariye is a lawmaker representing Plateau Central Senatorial District in the Senate and Jolly Nyame is a clergyman, which imply, both are ostensibly epitomes of ethical prudence.
It seems appropriate to deviate a little and commend the herculean efforts of the Economic and Financial Crimes Commission (EFCC), and their legal team in securing these legal victories. The significance of this development is manifold. It will boost the morale of the staff of the anti-graft agency, and other unsung heroes in the battle against corruption. These Nigerians jeopardize everything to fight corruption, and often, corruption viciously fights them back.  Also, anticipatory these victories will serve as deterrent to other public officeholders. It will help to change the narrative that in our society wrongdoers do not suffer the consequences of their actions, particularly, if they are highly placed. Furthermore, it will hopefully narrow the ambit of impunity and halt our free fall to an ethical black hole.
These high-profile imprisonments show that the ethical foundation of the political class is weak, in fact, that of the larger Nigerian society. They also raise many questions. What are the moral principles that govern the behavior of our leaders?  What values influence how they conduct public business? How can we encourage ethical dialogue in spheres of power? What mechanisms should we put in place to encourage collaborative leadership that proactively checkmates the antics of predatory leaders? If Nigeria places greater emphasis on the development of moral character will it end the regime of pleasure-seeking profligate leaders?
Corruption is widespread in Nigeria; in part, because, ethical leadership is not a prominent element of our national history. Nigeria's descent to the abyss of infamy was precipitated by praetorian leaders that belong to the school of situational ethics. During the protracted era of military rule, this crop of leaders institutionalized venality. They made patronage an instrument of governance. Despotic military rulers gave their cronies and praise singers "license" to loot. All these nurtured the erroneous belief that corruption is the middle name of every leader in Nigeria and that we are "fantastically corrupt". Till date, some Nigerians hold the view that only the morally bankrupt seeks elective office. They think that the political realm is a hunting ground for treasures, a rendezvous for fortune-seeking sadistic spoilers. Sadly, the imprisonment of these two former governors cements notions like this that curtail the emergence of authentic leaders.
Ethical crises have reduced the confidence of citizens in political leadership; consequently, many do not have faith in the capacity of the state to carter for their wellbeing. This creates the illusion that our society has regressed to the era that antedates the Age of Enlightenment or what Thomas Hobbes famously called the "state of nature", in which, human life is "solitary, poor, nasty, brutish and short."
During the Age of Enlightenment the notion of social contract flowered. John Locke, Jean-Jacques Rousseau, Immanuel Kant and many others developed the concept of social contract, which underscores the legitimacy of the authority of the state over the individual. This is what is under threat in Nigeria today.
The point to highlight is, when leaders criminally abuse public trust; it violates the social contract between government and the citizenry. It weakens the belief that state-society creates equal opportunity for the citizenry, creates opportunity for individual self-actualization, and material wellbeing in a moral and legal climate that extols the principles of fairness, equity, justice and compassion. Due to this weakened belief, most Nigerians think individual rights come before community responsibility.  They think concern for the common good is not only secondary to personal comfort; but an otherworldly pursuit. In other words, most Nigerians are not prepared to sacrifice anything noteworthy for Nigeria, let alone, make the supreme sacrifice if need be. Ethical dilemmas are stumbling block for national development. No nation can sustainably develop if ethical rectitude is not a hallmark of leadership.
Nigeria cannot win the war against corruption without a far-reaching ethical education. No program of moral education and national renewal can be effective without the active involvement of families. For, the character of a nation reflects the character of its constituent families. If the feverish quest for inordinate materialism has not made many families to fail as prime agent of socialization, custodian of moral value, Nigeria's ethical dilemma would have long ended. So, to free Nigeria from the corrosive influences of corruption every family must devout itself to moral education that aids the formation of noble character. Material exigencies must not make us to abdicate our responsibility to develop the moral profile of future leaders.
In the same way, our schools and religious institutions must be more passionate about teaching the values of integrity, contentment, tolerance, peaceful resolution of conflicts, respect for difference, and civic, communal responsibilities. From a young age, we must empower every Nigerian to make sound ethical choices. Nigerian children should be raised in ways that make them capable to align themselves with our national values and eschew corrupting influences.
As we seek to strengthen the ethical foundation of leadership, we should glean wisdom from the profound insight of Patricia Pinnell and Shirley Eagan of West Virginia University Extension.  According to them, people generally use four questions to determine the ethics of an action. The first is what they called, "The child on your shoulder." This test presupposes that an action is ethically sound if your conscience is untroubled by an action if your children are watching you. Therefore, as a rule, leaders must not do what will embarrass the moral acumen of their children; they must not do behind their children what they cannot do in their front.
The second test of ethical legitimacy is what they called, "The front page story in the newspaper." Leaders make ethical decisions that make headlines. As a leader if your conscience will be troubled over an action, if it makes the front page of a newspaper, it means the action does not ethically advance public good.
The third ethical legitimacy test is the golden rule, which stipulates; "treat others as you would want them to treat you." The question to ask is, if you are at the receiving end of the ethical decision or action you are about to make will you feel comfortable?  This is about consideration for others. Sadly, it is one thing toffee-nosed leaders in Nigeria know nothing about. If leaders really keep the royal law, "Love your neighbor as yourself", imprisonment will not be their lot.
The fourth and the last rule developed by Patricia Pinnell and Shirley Eagan is what they called, "The rule of universality." In order words, if your action becomes a common norm would you be happy, will the world become a better place to live in. As a leader if your action cannot become a normative ideal, a standard practice, it may imply that it is ethically worrisome.
Every well-meaning Nigerian that longs for a day when our leaders will be devotees of ethical ideals must start decrying the politics of corruption, and the corruption of politics.  We must stand against those who demonize fighters of corruption. We must shun those who idolize corrupt leaders.  We must not cozy up with unethical leaders. We must let our king makers, those who manufacture chieftaincy titles, academic and religious honorifics to know it is a grave evil to honor plunderers of our common wealth. We should start naming and shaming leaders who enrich themselves by impoverishing followers.
To collectively build a just, fair and equitable society and promote the ethos of servant leadership, we must stop the emerging culture of mobilizing mass protest whenever a political figure is accused by the police, indicted by an administrative panel or sentenced to prison by a court of competent jurisdiction.  Rather when leaders are under investigation we should mount pressure on them to resign from office as is the case in other climes. Every leader in Nigeria will aspire to influence people through ethics when they know ethno-religious sentiments do not dampen or skew our sense of ethical judgment.
Copyright Ships & Ports Ltd. Permission to use quotations from this article is granted subject to appropriate credit given to www.shipsandports.com.ng as the source.