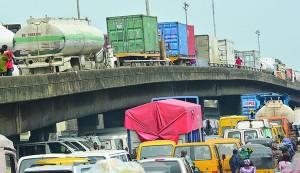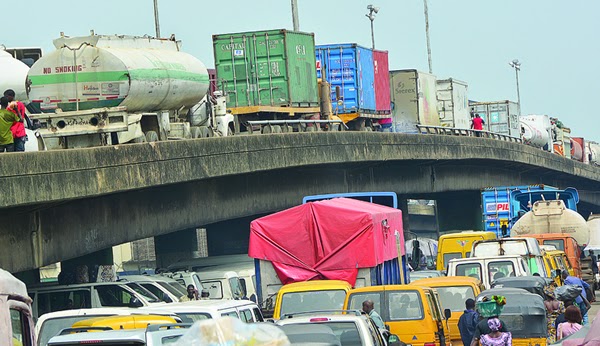 The Federal Road Safety Corps (FRSC) on Monday says efforts are being made to place bars on some Lagos bridges to prevent indiscriminate parking of tankers and articulated vehicles.
The FRSC Lagos State Sector Commander, Hyginus Omeje, made the disclosure in an interview with reporters in Lagos.
Omeje said that a committee had been inaugurated to look into how owners of trucks and tankers could do their business without climbing bridges in the state.
He said, "We are working on how truck drivers can use the ground instead of climbing bridges in Lagos State to prevent accidents and gridlock.
"It has been proposed by the government that we can bar the bridges to prevent accidents and indiscriminate parking of trucks and tankers on the bridges.''
The FRSC boss stressed that putting bars on the bridges will curtail gridlock and crashes involving cars and articulated vehicles especially the over-aged ones.
Omeje said that many of the tankers and trucks had been on the road for more than 25 years, saying that some of the vehicles could not withstand the load placed on them.
He said, "Many of them breakup on top of the bridges and cause traffic jam.
"Many truck and tanker drivers deliberately park on the bridges on their way to Apapa Port and obstruct vehicular movement. All these acts will end soon.
"We are more concerned about the menace of gridlock on roads leading to Apapa Port.
"The state government inaugurated the task force to ensure that the trucks are streamlined to allow free flow of traffic along the corridor."
He said that the gridlock created by trucks and articulated vehicles on bridges in Lagos were dangerous and had damaging effects.
"We are sitting on a keg of gunpowder because the bridges are weak because tankers, trucks and articulated vehicles are parked on them.
"When these vehicles are stationary on the bridges for a long time, they have negative impact, including deterioration, bridge-fatigue, damage or even collapse.
"The Ijora, Eko, Carter and Third Mainland bridges were expensive projects that cost huge capital to execute," Omeje said.
The state government had mandated all owners of articulated trucks coming into Lagos to obtain the Ministry of Transportation's Road Worthiness Certificate at any of the designated centres within 30 days.
The ultimatum on roadworthiness certificate followed the recent tragic tanker explosion on Otedola Bridge inward Ojodu Berger along Lagos-Ibadan Expressway.
Fuel tanker drivers were also directed to ply designated trailer routes – Apapa-Oworonshoki Expressway via Ogudu to Lagos-Ibadan Expressway.