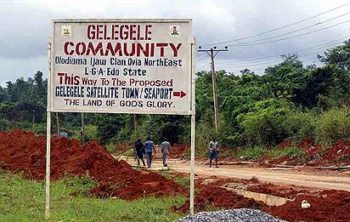 Crisis is currently looming among the Benin and Ijaws in Edo State following a protest march yesterday by Benin Solidarity Movement (BSM) over alleged claim by the latter to the ownership of the proposed Gelegele port and some oil rich communities in the state.
The March took them to the Edo State Secretariat of the Nigeria Union of Journalists, Directorate of State Security and the Edo State House of Assembly where they registered their grievances.
The protesters, who distributed copies of a press statement during the march, said they were pushed to embark on the protest in response to a publication by the Ijaw Youth Council on the 9th of March, 2017, over the legitimate ownership of Benin Kingdom land in Gelegele.
The statement signed by the group's president, Curtis Ugbo and secretary,
Osarodion Osagie, warned that it would "no longer condone non-natives, strangers or settlers to speak on behalf of any community, town, village or Local Government Area belonging to the Benin Kingdom in any public fora, function or occasion as the case may be.
"That oil exploring, prospecting and servicing companies in Benin Kingdom should deal or do businesses only with the Benin people. That all oil wells flowing and non-flowing belonging to the Benin people should be used to develop our Kingdom, which is a dukedom under the leadership of the Enogie of Ologbo in Benin Kingdom."
"Oil well flowing and non-flowing in Benin Kingdom belongs to the Benin people and we want the Federal Government to stop the flow of our crude Oil from the 9-flowing oil wells in Obagie N'Okenkporo to Ovade in Delta State with immediate effect," the group said.
Copyright Ships & Ports Ltd. Permission to use quotations from this article is granted subject to appropriate credit given to www.shipsandports.com.ng as the source.