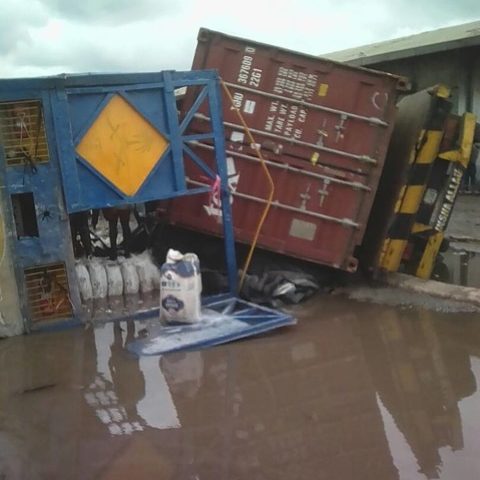 As a new working week began Monday, Apapa Magistrates' Court again was unable to sit due to another round of hardship faced by commuters as the major roads leading to the port city were flooded after a heavy downpour that lasted seven hours.
The entrance leading to the court was flooded as registrars, lawyers, prosecutors and clients had to remove their shoes, raise their skirts or fold their trousers to the thigh to wade through the flood as they make their way into the court.
Commercial motorcycles popularly okada were seen doing brisk business as they charged N50 per person to take them across the flood – a distance of less than 100 metres. 
It could be recalled that the court suspended sitting last week due to the notorious Apapa gridlock, which has become a nightmare to motorists and residents of the port community.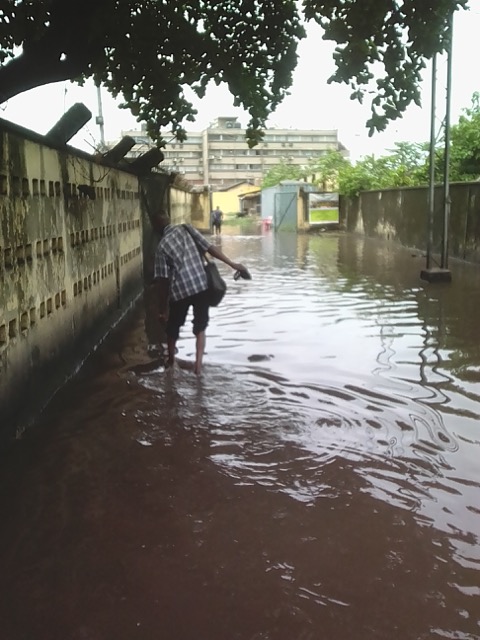 A prosecuting counsel, Alexander Esebamen narrated his experience to SHIPS & PORTS DAILY: "When I got to where the flood was, I had to remove my shoes, roll up my trousers and stepped into the flood."
A lady, who gave her name as Ruth, who was at the court to file a document said, "I would have loved to go back to the office, but I have to file the document in the court. I am scared of entering the water."
She was however seen removing her shoes reluctantly to make her way into the court premises. 
However, the Magisrate could not, and the court did not seat, for the second week running. 
The flood perhaps is the least of the commuters' problem. The terribly dilapidated roads and gridlock has simply made it impossible to drive into Apapa these days. 
Just yesterday, a big truck laden with flour fell, spilling its contents due to the huge potholes on the Ijora-Wharf road. The truck flipped over around Area B, Police Barracks Junction.
The motor boy identified as Tunde told SHIPS & PORTS DAILY that the hapless truck driver sustained serious injury.
"I just saw blood gushing out of his head, hand and leg. He has been rushed to the hospital," Tunde said. 
When asked about his own health, he said, "I felt a little pain in my leg but I am much better now."
It is the same story everyday with truckers and motorists bearing the brunt of government neglect of its cash cow. Many are surprised that the Federal Government is not ready to spend a paltry N10 billion to repair the roads of the community it makes N140 billion from weekly.   
Copyright 2017 Ships & Ports Ltd. Permission to use quotations from this article is granted subject to appropriate credit given to www.shipsandports.com.ng as the source.