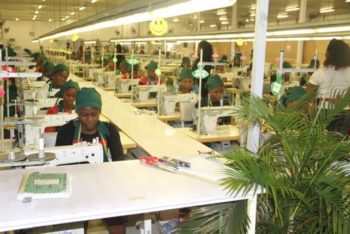 Nigeria's Oil and Gas logistics giant, INTELS Nigeria Limited has trained and empowered no fewer than 300 women in the Niger Delta region through its innovative Women Empowerment Programme Scheme Synergy (WEPSS).
WEPSS was instituted to enable the women become leaders and to also promote a positive and strong image for Nigerian women.
The Paramount Ruler of Onne Clan in Rivers State, King John Dennis Osaronu, who told journalist about the tremendous impact of the company on the lives of community dwellers, said INTELS is a company Nigerians must be proud of.
The Royal Father said apart from its huge investment and creation of thousands of jobs in the Niger Delta region, INTELS has impacted positively on the lives of millions of Nigerians.
Speaking with some journalists in his Palace in Onne recently, the Monarch said, "30 years ago, Onne was a virgin forest. Onne as you see today was not what it was about 25 to 30 years ago. Even the port area was forest. We used to go there to hunt for monkeys and catch crabs – we called it crab land until INTELS came in.
"Before INTELS came, the area was abandoned right from the time of Umaru Dikko as the Minister of Transport. Since INTELS came into our community, we have got so many changes and things are going on so well with us.
"They have empowered our children, men and women. They have built roads and provided us medical services. Recently they built us a 10-kilometre tarred road. They have built for us three schools and given us drainage system for the community."
The Monarch said INTELS also built a modern ultra-modern market constructed at the cost of One Billion Naira and provided solar streetlights for the community.
Speaking on the women empowerment scheme in its corporate social responsibility repot, INTELS Nigeria Limited said, "Nigerian women are hardworking and blessed with innate skills. What we are doing at WEPSS is to offer them world-class training in fashion design ad sewing so that those sills can become economically-productive skills. This will in turn provide the security of regular income for the women and their families and as a result, support government's poverty alleviation drive."
The company said the scheme would encourage female entrepreneurship in the country.
Beneficiaries of the WEPSS training may chose to work in the Onne Free Zone or decide to set up their own businesses and become self-employed.
INTELS said WEPSS is just one of several initiatives developed by the company to support communities and empower people in the Niger Delta area and other parts of the country.
The company provides free medical services and scholarships to undergraduates and secondary school students across the country.