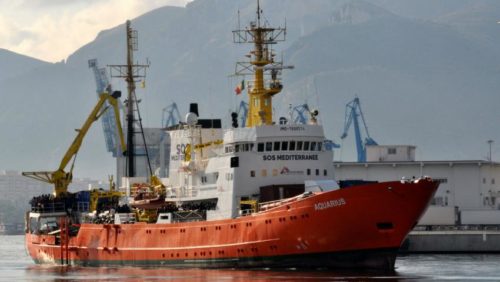 Italian judicial authorities have ordered rescue ship Aquarius, chartered by SOS Mediterranee, a European humanitarian organization engaged in rescuing migrants in the Mediterranean, to be seized.
The move follows an investigation by the Prosecutor's Office of Catania, into the alleged unclassified disposal of onboard waste and claims that the charterer illegally profited from it.
"We categorically refuse accusations of involvement in illegal activities. Standard procedures, that have not been questioned by authorities so far, have always been followed by the Aquarius," SOS Mediterranee, said in a statement.
"This is another strike in the series of attacks criminalising humanitarian aid at sea. The tragic current situation is leading to an absence of humanitarian search and rescue vessels operating in the central Mediterranean, while the mortality rate is on the rise," says Frederic Penard, SOS Mediterranee, Head of Operations.
The humanitarian organization added that this is another politically driven attack, stressing it would appeal the decision.
"We expect the French authorities, to show restraint in the implementation of this decision, as the Aquarius is currently docked in the port of Marseille," the organization added.
"In these difficult moments for the Aquarius, in which repeated political pressure forced our two organizations to temporally cease search and rescue operations in the Mediterranean, we are fully aligned and support all MSF efforts to appeal the court's decision."
The court decision comes just a couple of months after Gibraltar Maritime Authority said it would terminate its registration licence to the Aquarius, based on claims that "the ship had breached the registry's terms."
A month later, the Panama Maritime Authority (PMA) launched a process of revoking the registration of the search and rescue ship Aquarius 2.
The process was triggered by the plights from the Italian government.
SOS Mediterranee and Médecins Sans Frontières (MSF) stressed that both ships met all the regulatory requests over the past two years arising from the competencies of the flag states, describing the actions as "politically-motivated criminalization of humanitarian activities."
What is more, the rescue ships have been faced with numerous other difficulties as ports in Italy and Malta refused on several occasions to grant the ships approval to disembark migrants.
With more than 1,700 lives lost since the start of 2018, the rate at which people are drowning while trying to cross the Mediterranean has risen sharply this year, according to UNHCR.
In September alone, one person died or went missing for every eight people who crossed to Europe on the Central Mediterranean, in large part due to reduced search and rescue capacity, the UN agency said. 
Copyright Ships & Ports Ltd. Permission to use quotations from this article is granted subject to appropriate credit given to www.shipsandports.com.ng as the source.