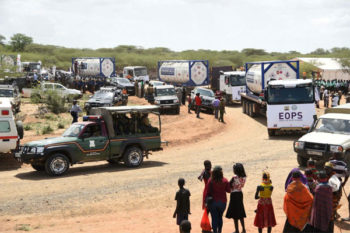 Kenyans protesters on Wednesday demanding more security in the north of Kenya have blocked trucks carrying oil from Tullow's fields, the British energy company said.
The truck scheme launched in June, aims to transport about 2,000 barrels per day (bpd) of crude from northern oil fields to the coast to test oil flow rates and other technical issues before the start of full production and exports via a pipeline to be built by 2022.
"Tullow confirms that there have been interruptions to the trucking of crude oil in Turkana County. Tullow is working with the respective national government agencies, the county government, local leadership and the communities to ensure that the matter is resolved amicably," the firm told Reuters.
"Tullow has provisionally reduced the number of personnel in the field while operations are paused," it said.
Government officials were not immediately available to comment.
Kenyan media said the protests that began last week were to demand the deployment of more security forces in the area, which has long been plagued by banditry and cattle rustling. Turkana also lies near South Sudan, a nation torn by years of conflict.
Agency Report