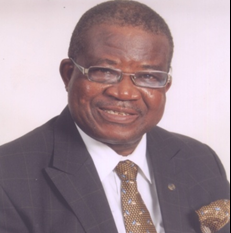 A renowned Marine Engineer and Nigeria's former Alternate Permanent Representative to the International Maritime Organization (IMO), Engr. Olu Akinsoji as decried the slow pace of implementation of the committee report on the establishment of a national fleet, blaming the federal government's lack of political will for the project. 
The federal government had last year constituted an implementation committee to screen shipping operators interested in acquiring part of the 60 percent holding for Nigerians in the proposed national fleet decades after the demise of the Nigeria National Shipping Line (NNSL).
The proposed shipping line is expected to provide Nigerians the opportunity to own different categories of oceangoing vessels such as crude tankers, containerised vessel, bulk cargo carrier, general cargo and dry cargo carriers, among others. 
Akinsoji who is also a member of the committee spoke in an interview with SHIPS & PORTS DAILY.
He said he is unhappy that 12 months after it submitted its report to the Transport Minister, Rotimi Amaechi, the government has failed to implement the committee's recommendation.
He said the government has not created the enabling environment that would make shipping business attractive and dragging its feet on implementation of the committee's recommendation will not help achieve the desired results.
"The committee submitted its interim report and implementation committee are working on it but I will say we are very slow and we cannot measure the achievement. What the committee and the minister in concurrence is working on is to begin to create an environment for Nigeria to be able to have their own ships or even for foreign investors to come into the system and have confidence in putting money in to buying ships and flying Nigerian flag and taking advantage of the cargo and employing Nigerians on their ships to earn foreign exchange. 
"These are the concepts but I have not seen that emerging yet and that is because in my opinion, the environment has not been created and the environment is not yet attractive and I wish that more political seriousness is put into this to allow it to emerge because it is a fantastic initiative. But then dragging our feet cannot gain us the pathway to achieving the objectives of that initiative.
"It is thing of worry. I as a member of that committee I thank the minister for given me the opportunity to be there but I am not too happy that we cannot count on the gains of making the objective of that initiative. We spent so much time on it but I think there is no enough political will to push this thing to effectiveness," he said.
Akinsoji, while calling for the immediate implementation of the report, said its full implementation would help move the industry forward. 
Copyright 2017 Ships & Ports Ltd. Permission to use quotations from this article is granted subject to appropriate credit given to www.shipsandports.com.ng as the source.