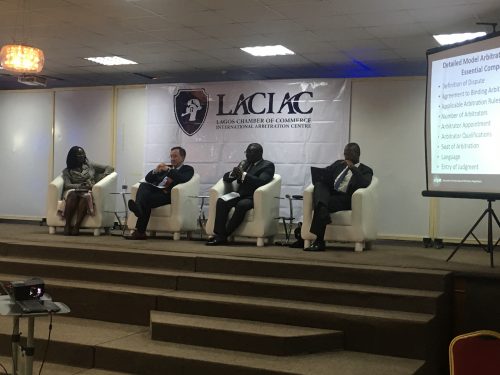 The Lagos Chamber of Commerce International Arbitration Centre (LACIAC), in collaboration with the law firms of Olawoyin & Olawoyin, Doyin Rhodes Vivour & Co and Famsville Solicitors, has concluded plans to hold a seminar on maritime business and disputes.
LACIAC Managing Director, Funmi Iyayi, said the event will hold on Wednesday October 16, 2019 at the Lagos Chamber of Commerce and Industry Building, 1 Idowu Tailor Street, Victoria Island Lagos.
She said the seminar will include two sessions to discuss "the growing export market and the potentials for the maritime industry" and "integrating the African Continent for the development of Maritime Trade – eliminating trade barriers and dispute resolution management". 
She said LACIAC  is an international arbitration and alternative dispute resolution (ADR) institution, set up by the Lagos Chamber of Commerce and Industry, with a vision to establish a user friendly centre for the management as well as the resolution of disputes, by offering to both local and international businesses a cost effective and reliable forum and providing tailored solutions which alleviate the unnecessary burdens of dispute management and resolution. 
Participants for the event are expected to be drawn from the Nigerian Ports Authority (NPA), Nigerian Shippers' Council, terminal operators, shipowners, Nigerian Office of Trade Negotiations, academics and judges of the Federal High Court.  
Interested persons can register for the seminar at http://bit.ly/2kYLXiP.