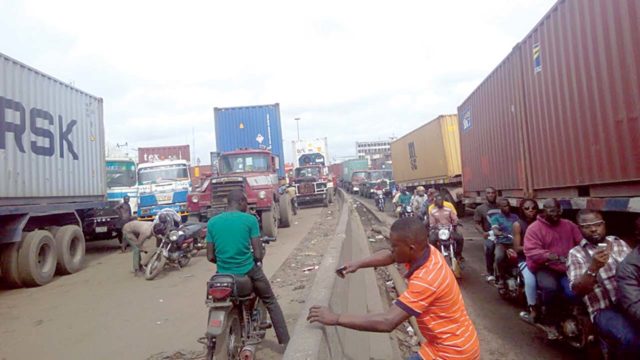 The Lagos State Task Team on Law and Order in Apapa has begun towing abandoned trucks parked on the port access roads as part of efforts to ensure free vehicular movement and restore sanity in Apapa.
Truck drivers have consistently ignored the warning by the Lagos State Government to vacate the road on the excuse that there are no provisions made for them to park their trucks.
When SHIPS & PORTS visited Apapa yesterday, officials of the task team were seen moving some of the abandoned vehicles on Creek and Burma roads in Apapa while the tyres of the ones that could not be towed were deflated.
It was gathered that the truck owners who have their trucks towed would have to pay unspecified charges as fine before the trucks will be released.
Commenting on the development, Chairman of Save Nigeria Freight Forwarders, Osita Chukwu, lauded the task team for removing abandoned trucks on the port access roads, saying that the development will restore sanity in Apapa.
He said, "As you can see Apapa is better now and you can drive in easily. It is a good development by the task team if they can continue like this and within a space of time, there will be sanity in Apapa.
"Inadequacies come as a result of indiscipline and that indiscipline ought to be addressed. If somebody is not disciplined, he will continue to do the wrong thing and create more bottlenecks for port users even though he is aware that what he is doing is wrong.
"The truck drivers will just park on the road, some for seven days creating bottlenecks for other port users. I wonder the kind of people that own all these trucks and don't have a park. They will drop their containers yet they will still remain on the road scouting for jobs. All truck owners should go and get truck park. They cannot continue to use their business to disturb others."
When contacted, Chairman, Association of Maritime Truck Owners (AMATO), Chief Remi Ogungbemi, however condemned the towing of trucks by the task team, describing it as unwarranted.
He said, "Unwarranted towing has been going on and they are doing it for their own interest. We are meeting with the Lagos State team tomorrow (today)) so that we can take all the necessary action on how to guide against these indiscriminate towing of vehicles within either Apapa or at any bonded terminals."
Ogungbemi noted that while the association is not against efforts by the Lagos State Government to restore sanity on the port access roads, the absence of an electronic call up system that would notify the truck drivers when they are needed at the port was responsible for their parking on the roads.
He assured that with the planned deployment of an e-call up system scheduled to take off February 27, truckers would no longer park on the road.
"It is because there is no device to inform these trucks when it is their turn that is why you see all the trucks come in at the same time but by the time we have a system in place that will be telling them when it is their turn to come, they will not come and park on the road again.
"There must be sanity in Apapa and we are ready to work with the Lagos State task team as much as there is no preferential treatment for any truck owner. We want to change the way we are doing things because the system we were using before has become obsolete so we want to start using a new system.
"We want to canvass to let our members know that the best bet is that every truck should go back to their parks and garages and wait for their turn. No truck should come and park on the road or on the bridge," he said.
SHIPS & PORTS reported earlier that the Lagos State Government on Wednesday issued a 10-day notice to truck drivers to remove their trucks from the roads to avoid being towed.