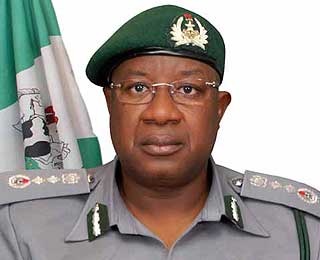 The immediate past Comptroller-General of the Nigeria Customs Service (NCS), Dikko Inde Abdullahi Dikko, who died yesterday at the age of 60, will be buried today, family sources said.
Dikko, who served as Customs Comptroller-General from 2009 to 2015, had a prolonged battle with prostate cancer. His health condition, according to sources, recently worsened due to COVID-19 complications.
"Innalilahi wahi inna ilahi. Former CG Customs Inde Dikko succumbed to death. We planned the Janazah prayer at National Mosque tomorrow (today) after Jumah prayer Insha Allahu," the family member, who did not want his identity disclosed, said.
"He has been seriously and was taken to hospital close to his house in Jabi, but later died at home. A strong pillar of our family has fallen, May Allah forgive him," he said.
Customs Public Relations Officer, Joseph Attah, also confirmed Dikko's death.
He said, "The family of the former Comptroller General of Customs, Abdullahi Dikko Inde just announced his passing away today. His funeral prayers (Janaza) will take place tomorrow, Friday 19th February, 2020 after Jumaat Prayers at National Mosque Abuja.
"He was the Comptroller General of Customs from 2009 to 2015. May Allah Forgive his shortcomings and may Aljannatul Firdausi be his final abode. May Allah give his family and loved ones the fortitude to bear the irreparable loss. Amin".
Dikko's tenure as Customs Comptroller-General was dogged by several controversies. Almost immediately after his appointment by his fellow kinsman Late President Umaru Yar'Adua, one Ibrahim Oyewole Olajide, swore to an affidavit at the High Court of Lagos State on 1 September 2009 that he assisted Dikko to forge professional certificates and write exams to secure rapid promotions in the Nigeria Customs Service.
He was also responsible for the controversial displacement of scanner operators  and destination inspection service providers at the port at border stations. The NCS was unable to manage most of the scanners which it took over from the private operators leading to the entrenchment of manual examination of cargo at the nation's seaports.
Shortly after President Muhammadu Buhari defeated Dr. Goodluck to emerge as Nigeria's new President on May 29, 2015, Dikko, who hails from Katsina State as Buhari, decided to resign from his post.
A few months after his resignation, officials of the Economic and Financial Crimes Commission (EFCC) stormed one of his property in Kaduna State and recovered 17 exotic cars, a 2013 model 32-seater Nissan bus, 42 tricycles, one tipper truck, 16 motorcycles, over 500 rug carpets and two fire-proof safes.
The items were recovered from a warehouse, off Nnamdi Azikwe Expressway, around NASFAT village, in Igabi Local Government Area of Kaduna State.
Not long after this mind-boggling discovery, the ex-Customs chief was arrested by the anti-graft agency for bribery and corruption.
He later entered into a plea bargain with the agency and refuned USD8 million (over N3 billion) to government coffers.
Dikko Inde Abdullai attended Government College, Kaduna in 1974 where he obtained the West African Senior School Certificate Examination in 1980. He had a Bachelor of Science degree in Economics and a Master's degree in Finance from the University of Dimitrov Apostle Tshenov, Svishtov, Bulgaria. He joined the Nigeria Customs Service in 1988.
The former Customs boss is survived by a wife, Shadiat, and three children – two sons and a daughter.