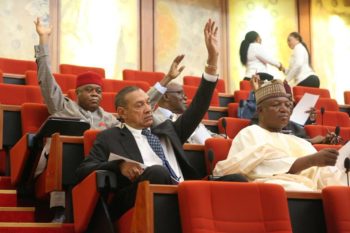 By The joint committee of the National Assembly on Petroleum (Downstream) has accused the NNPC and petroleum marketers of defrauding the country of N1.1 trillion in the importation of petrol.
Chairman of the Senate committee on Petroleum, Senator Kabir Marafa (APC, Zamfara) who chairs the session said the question was not about subsidy but that there is massive fraud in the sector.
"When we asked them (NNPC), they told us, that they are importing 30 cargoes of 37,000MT per month through the DSDP contract. If you compute it at 1341 per MT by 37,000, you will have 1.488 billion monthly.
"Assuming we consume 40m litres per day, we will have seven days left in each month and if you multiply it by 12 you will have supply of 84 days left," he said.
For the marketers, he said, according to a document obtained from the CBN they got $3.3 billion dollars at subsidised rate of N305 exchange rate.
"The amount should serve us for 189 days at 40 million litres per day. In 2017, they are supposed to import 4.2 billion litres, which is equivalent supply of 107 days at 40 million litres per day.
"If you take 107 days of the marketers and the excess of 84 days of NNPC that will give you supply of 191 days at 40 million litres per day. In all, we had excess of 7.6 billion litres, which is for 191 days. The cost of it at N141 per litre is about N1.1 trillion. Who is fooling who? Who is deceiving who? The issue is not about subsidy, there is massive fraud in the sector," he said in a phone interview on the outcome of the session.
Copyright Ships & Ports Ltd. Permission to use quotations from this article is granted subject to appropriate credit given to www.shipsandports.com.ng as the source.