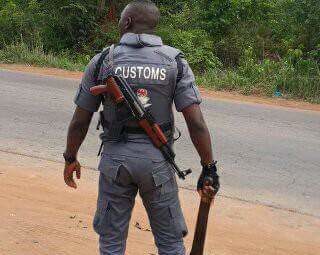 The Lagos Chamber of Commerce and Industry (LCCI) said on Monday that the removal of Customs check-points on highways was a reflection of the Federal Government's commitment to promoting the ease of doing business in the country.
The Director-General of LCCI,  Muda Yusuf, made the remark in a statement made available to newsmen in Lagos.
According to him, the directive will reduce extortion and disruptive activities to domestic trade, and end needless embarrassment to motorists for import duty receipts and revaluation of duty payments.
"The streamlining of their operations is therefore a welcome development. Their activities are most times arbitrary, especially on issues of vehicle valuation and documents, certifications on the highways, which often result in extortions.
"The development is a clear demonstration of the responsiveness of the present administration to complaints of the Private Sector on business environment issues," he said.
The director-general called for an effective implementation framework for the policy geared toward improving the ease of doing business and restoring order in the way public institutions discharge their responsibilities.
He said that LCCI would collaborate with other private sector bodies to monitor and track implementation of the directive.
Yusuf noted that domestic trade generates the largest number of jobs in the economy, next to agriculture and also contributes 16 per cent of the country's Gross Domestic Product (GDP).
"It needs all the protection that the government can give because the sector is very critical in the value chain of the real sector, such as manufacturing, agriculture, solid minerals and oil and gas," he said.
Yusuf commended the Presidential Enabling Business Environment Council (PEBEC) and the Nigeria Customs Service (NCS) for the bold step and urged other security agencies to emulate the NCS by dismantling irrelevant checkpoints.
He urged the Customs to strengthen surveillance and effectiveness at the various sea ports, airports and Borders, to ensure that prohibited items were not allowed into the country.
The LCCI boss urged the Service to ensure that scanners and other equipment necessary for effective inspection were available and functional.