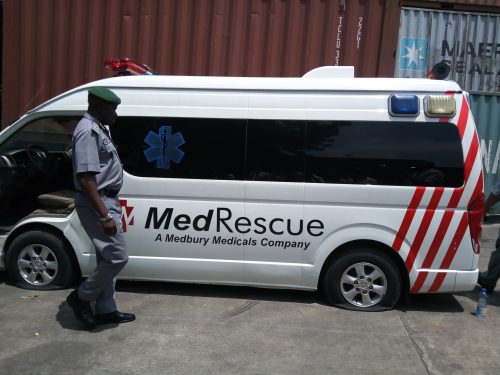 Medbury Medical Services on Thursday confirmed that its ambulance was used to attempt to smuggle some cartons of banned tramadol out of the Lagos Port Complex, Apapa. 
The Apapa Area Command of the Nigeria Customs Service (NCS) impounded the ambulance loaded with 10 cartons of 225miligram of tramadol worth N2.8 million at the Lagos Port Complex, Apapa on Friday night. 
The Hyundai ambulance with registration number LND605XW, which was usually stationed at the port complex for medical emergencies and belonging to Medbury Medical Services, an industrial medical service provider, was intercepted with the drugs while trying to smuggle it out of the ports in an emergency manner.
Controller of the command, Comptroller Muhammed Abba-Kura, who paraded the vehicle and the drugs at the port on Wednesday, said two suspects, Michael Ajibade (driver) and Olatunde Emmanuel (escort) have been arrested in connection with the seizure.
According to Abba Kura, further investigations revealed that the drugs were stolen from a container waiting for examination inside the port, noting that 211 cartons were missing from the containers, while the balance is yet to be traced.
But in a press statement it issued in Lagos on Thursday, Medsbury said, "The ambulance was obstructed by men of the Nigeria Customs Service and found to be conveying some packs of Tramadol. At the time of the incident, the ambulance was deployed onsite at the premises of one of our clients.
"While we confirm that the driver is a staff of the company, Medbury Medical Services wishes to state that he acted on his own when he gained unauthorized possession of the Medrescue ambulance to convey the medicines. As we are also a victim of this incident, we are working with all stakeholders to understand the situation better.
"We are in contact with our client and are cooperating with relevant state agencies to fully investigate this incident."