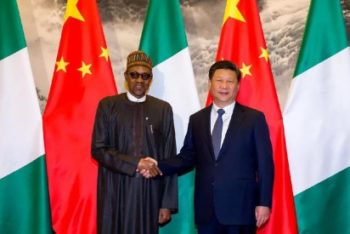 The trade imbalance between Nigeria and China has continue to grow in recent times, data have shown. The data obtained from the National Bureau of Statistics (NBS) showed that Nigeria had a trade deficit of about N6 trillion with China between 2013 and 2016.
Analysis showed that out of Nigeria's total import bill of N29.91 trillion between 2013 and 2016, China accounted for N6.41 trillion.
This is a huge gap when compared with N714.97bn worth of goods Nigeria exported to China within the four-year period.
A subtraction of Nigeria's exports from imports from China will show a trade deficit of N5.70tr, in favour of China.
This implies that Nigeria is heavily importing goods from China, a country that, until 1980, was grouped among the world's poorest countries.
The development has led to the death of several local manufacturing companies, including textile and garment factories; as well as even toothpick making ventures.
The President of the Abuja Chamber of Commerce and Industry (ACCI), Tony Ejinkeonye, said on Saturday, that the trade imbalance between Nigeria and China was likely to keep widening unless Nigeria turned to locally manufactured goods.
"A surge in Nigeria's import of Chinese goods has resulted in a trade deficit with China and this is expected to grow significantly due to increased trade relations," Ejinkeonye said.
The Manufacturers Association of Nigeria (MAN) said that historically, the issue of trade imbalance between Nigeria and China was not new and that the problems had not been addressed.
Nigeria had in 2001 signed an agreement on trade and investment promotion and protection which saw bilateral trade grow exponentially between the two countries.
The value of trade grew to $17.7bn in 2010, about 10 times its level in 10 years, allowing Nigeria's exports to China to more than double, but did not keep pace with Chinese exports to Nigeria.
This resulted in a trade imbalance of about 66.7 per cent in 2000 and 87.3 per cent in 2010.
The President of MAN, Dr. Frank Udemba Jacobs,said on Saturday that whereas around 87 per cent of Nigeria's exports to China were oil and gas products, China, by contrast, exported a diverse range of goods to Nigeria, most notably machinery, equipment, manufactured commodities, textiles and even toothpicks.
"The imbalance exists because Nigeria's export of oil and gas to China has gone down. Besides, we do not have capital goods to export to China. We are even importing raw materials from China," Jacobs said.
The amount of money Nigerians spend importing goods from China alone in the last four years could have financed Nigeria's 2013 federal budget of N4.99 trillion with a balance of over N1.42 trillion.
While imports from China alone accounted for 21.43 per cent of Nigeria's total imports in the last four years, exports to China accounted for 1.48 per cent of Nigeria's total exports during the period.
The vulnerability of Nigeria's economy to that of China could be seen in the fact that Nigeria imported goods worth N404.13 billion in the last quarter of 2016 from China, being Nigeria's number one import destination, but China could not make the list of Nigeria's top 10 export destinations in the same quarter.
For full year 2016, Nigeria imported mostly from China with 19.7 per cent of total imports followed by the Netherlands with 11.7 per cent and then the USA with 8.0 per cent.
There are concerns on the quality and not just the quantity of goods that hit the Nigerian markets from the Chinese economy.
At the moment, two Chinese nationals, Tao Shen and Jing Yau, are standing trial in Nigeria over charges bordering on alleged importation of fake tyres.
The Chinese importers were charged alongside a Nigerian, Chinedu Madubuike, and two companies, Sino Nigeria Import and Export Ltd, and Nedeca International Ltd, on four counts bordering on importation of substandard products, an act if proven in court, contravenes the provisions of Sections 26 and 32 of the Standards Organisation of Nigeria Act, No 14, Laws of the Federation, 2004.
The Ambassador of China to Nigeria, Dr. Zhou Pingjian, recently wrote that China stood ready to open its door wider to Nigeria, but the details of the current narrow door impeding exports from Nigeria to China remains sketchy.
"Whether you like it or not, the global economy is the big ocean that you cannot escape from. Any attempt to cut off the flow of capital, technologies, products, industries and people between economies, and channel the waters in the ocean back into isolated lakes and creeks is simply not possible," Pingjian wrote.
The ACCI boss said to narrow the trade imbalance in the interest of local manufacturers, Nigerians must learn to patronise made in Nigeria goods and services.
Ejinkeonye recommended limiting foreign trade generally only to those goods that could not be made in Nigeria; launching only economic reforms which should include price and ownership subsidies for farmers; and establishment of special economic zones for the purpose of attracting Foreign Direct Investment (FDI) and importing high-technology products into Nigeria.
"The monetary policy must be right. A country that cannot provide long-term fund at single digit interest rate for industrial development would find it difficult to grow. Nigerian manufactured products are not competitive because of the prevailing high cost of production and can, therefore, not compete globally," Jacobs said.