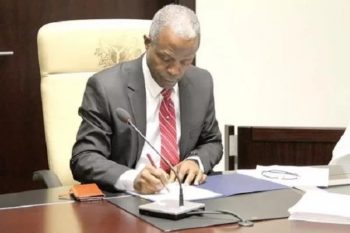 The leadership of the National Assembly, Dr. Bukola Saraki and Rt. Hon. Yakubu Dogara will witness the signing of the 2017 budget into law by the Acting President, Yemi Osinbajo at the presidential villa.
Prof. Osinbajo is expected to sign the budget at a low-key ceremony scheduled for 3:00pm on Monday.
"The senate president and the Speaker of the House of Representatives, are on their way to join the acting president," a reliable
"All grey areas have been sorted and the budget is ready for signing into law any time soon," Timothy Golu, a member of the House of Representatives, who chairs committee on legislative budget and research said.
The National Assembly had on May 9 passed the budget estimates submitted by President Muhammadu Buhari last December.
The approved budget was transmitted to the Presidency on May 19. Since then, the Executive has been examining the documents.
Speaker Yakubu Dogara had on Friday said the budget would be signed into law early this week.
"On issue of budget, we kept our promise to Nigerians at the beginning of the legislative session to ensure transparent deliberation and passage of the 2017 Appropriations Bill, which will be signed into law early next week," Dogara said.
The federal legislature jerked up the 2017 budget by N143 billion, from the N7.298 trillion proposed by President Muhammadu Buhari to N7.441trillion.
The sum of N2.174 trillion was for contribution to the Development Fund for capital expenditure; N434.412bn for Statutory Transfers; N1.841 trillion for debt service; N177.460bn for Sinking Fund for maturing bonds, while the sum of N2.990 trillion is for recurrent (non-debt) expenditure.
Similarly, the sum of N20bn was added to the budget by the lawmakers for the second runway at the Nnamdi Azikwe International Airport, Abuja.