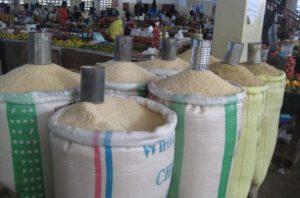 Recently, the Vietnamese government announced its plan to facilitate exportation of more rice to Nigeria. But in a separate development, Ebonyi State Government announced a ban the sale and consumption of foreign rice in the state. Oluwatoyin Amao went to town to sample the opinions of Nigerians on what they make of the Ebonyi State Government's action.
Rice is the most consumed food commodity in Nigeria. Most cooking utensils and equipment make rice consumable for people, either through white rice with stew, braised rice, coconut rice, Chinese rice, jollof rice or fried rice. It can be said that the Ebonyi State government has been following the footsteps of the federal government in ensuring that local rice is embraced. Recently, it was announced that Lagosians spend about N10 billion on rice consumption daily. Thus, the Ebonyi state government may have envisaged the likely benefits of promoting local rice especially in the current economic situation of the country. Also, diversification encourages looking inward and promotion of local food material is one of the results of looking inward.  Rice is a very strong economic variable with the capacity to generate 7% of the entire agricultural export if well packaged. As a result of this, i support the ban on importation of rice provided government is ready to empower local farmers and other related food crops. Agriculture itself has lost value chain and government involvement is inevitable. The idea of the Ebonyi state government is a welcome development because it promotes local trade and enhances our agricultural schemes.
Olusola Folorunso
Ibadan
There are two sides to this issue: Firstly, what is the state government doing to support the farmers in the state in improving their productivity level and to improve the economy making it affordable for its citizens. If they are actually supporting the farmers, then it will be a good idea to ban rice importation but if they are not, they are only making life difficult for the masses. Secondly, the only source of livelihood for some people is on rice importation. If it is banned, the government will be rendering them jobless and bankrupt and this will invariably increase the rate of criminal act in the state. In conclusion, I think the state government should start supporting local farmers in rice production and it should be produced in bulk to feed more people.
Olayinka Olakangudu
Abeokuta
Although it is on a subsistence scale, Ebonyi state has shown a great deal in agriculture specifically in rice cultivation and production. This is due to the swampy land mass which supports rice production. Imported rice seems to be on the verge in Nigeria. In view of this, any rice that is not parboiled after six months turns to chaff. This is because most of them brought into the country stay for about ten (10) years before being imported. But rice being produced in Ebonyi will not stay that long before being consumed. This will help Nigeria economy to reduce importation and help exportation. Recently, I watched a video clip on Facebook, on how rice is being produced in China. It is being produced with nylon being passed into a machine and I was terrified when I saw the video. I feel it is high time importation of rice is banned totally, not only in Ebonyi State but Nigeria as a whole.
Samuel Odeniyi
Ibadan
It is a way forward for a state that is termed the "Food basket of the Nation". If Nigeria needs to move forward, then we need to go back to the bases to improve our agricultural sector. The ban on foreign rice in Ebonyi state will encourage exports which in turn will boost the economy; but mind you, if the government is determined to ban importation of rice, then what plan do they have in place. I think the government should have provided a working plan. Also, I believe banning imports of rice is a welcome step to improving Nigeria economy.
Olamide Jimoh
Lagos
It is a step in the right direction if the government has discovered that the state is self-sufficient in rice production and that is commendable especially in this economic situation we have been plunged into. It is encouraging to know that Ebonyi can survive without importing rice. Indigenous production should be encouraged and all states will work on the principle of comparative advantage.
Isaac Ibrahim
Lokoja
As much as I believe that the ban may be intended to encourage local production and to boost the state's economy. I think the state has not put in place sufficient measures to tackle the effects of the ban, such effects are: inadequate supply of rice by local producers relative to the level of demand (at least at the initial stage); result on hike in market price of the available quantity and again, one seeks to know what measures have been put in place to boost local production and what is the sustainable durability of the local production plan? I think there should have been subsidies and concessions to boost local production, while importation is still allowed but with stiffer terms and when local production has been boosted and becomes sustainable, ban should then be imposed on rice importation. I think the Ebonyi state government has just put the cart before the horse.
Oluwafunmibi Adebayo
Ilorin
For me, a ban on the sale of foreign rice in Ebonyi is in the right direction. With the recent investment in mechanized agricultural equipments in the state for rice farmers, Abakaliki rice farmers will be able to plant and process more rice. Also, sell more refined rice to the populace. The ban will create more jobs for indigenes of the state and more money for the farmers and populace, In turn; there will be fewer criminals in the state. Also, Nigeria will become an exporter of processed and refined rice to neighbouring African countries.
Peter Oyinloye
Ilorin
It's a good development if they can promote our own local rice and make it available to Nigerians at an affordable rate. By doing this, it will enable the government to pump money into the agricultural sector which will encourage young graduates to venture into agriculture.
Adewale Adekanbi
Lagos 
I feel it will encourage people to give the indigenous rice a trial. It will make producers live up to expectation by ensuring the rice is of good quality. Also considering the exchange rate, importation will most likely be on the high side. So for cost effective reasons, buying Nigerian rice is a plus and it will significantly grow the economy's agricultural sector.
Tolu Oladimeji
Lagos
I think the decision to ban rice importation in Ebonyi State is a wise one. Nigeria has been a mono culture for years and now they are trying to diversify by developing other sectors like agriculture. This will enable us to have our foods produced domestically rather than importing them which I think a reasonable individual will support. In order to discourage importation, banning is a good idea. Although it may appear tough on the economy, it will be the best for the country.
Segun Israel
Ilorin
Although it is a welcome development to encourage consumption of home grown rice, is there enough local rice in circulation to meet the needs of everyone in the state? I think the 'Abakaliki rice' as it is called is like the Yoruba 'Ofada rice' which we all know is more expensive than the imported rice and enough is not in stock. Ebonyi State has just three (3) rice mills which are effective now but can these mills produce enough quantity to feed the entire state pending when the construction of the other 13 mills will be in use by 2017. If these mills cannot produce rice in large quantities, then who suffers the brunt of the ban between now and the end of 2017? Definitely, it is going to be the masses that will not be able to afford local rice. In essence, placing ban on rice importation is wrong. However, I feel if the rice mills are fully in place and producing enough quantities, then the ban can be implemented.
Oyinkan Ibukun-Thomas
Lagos
Copyright Ships & Ports Ltd. Permission to use quotations from this article is granted subject to appropriate credit given to www.shipsandports.com.ng as the source.