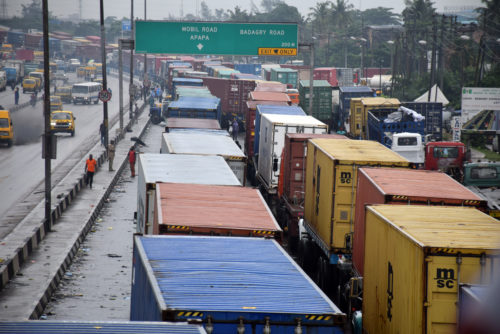 The Life Patron of the Nigeria Institute of Shipping (NIS), Caleb Okoye, has said that past governments at the centre made a mistake in authorising the establishment of sugar, wheat and cement factories inside the ports, as these are contributing to the notorious Apapa gridlock.
Speaking at NIS' 9th Annual General Meeting and Awards held in Lagos on Friday night, Okoye said that it would have been appropriate to site only factories for goods meant for export at the port.
He also regretted approval of tank farms near the ports without due consideration of the road traffic implication to the ports.
He said, "I am alarmed by the situation of our ports. Apart from oil, over 80 per cent of cargoes coming to Nigeria are now containerised.
"The container traffic started in Nigeria in 1966 when NNSL (Nigerian National Shipping Line) and two UK shipping lines formed the African Container Express. They made arrangements with the Nigeria Railway Company to transfer containers from Apapa to Kaduna container terminals.
"The rail link between Lagos and the North was then running smoothly. Today that is history."
Also speaking at the event, the National President of NIS, Anthony Onoharigho, said a bill to get the institute chartered had gone through a second reading at the National Assembly before it became stuck.
"But now it will be back on line again," he said.