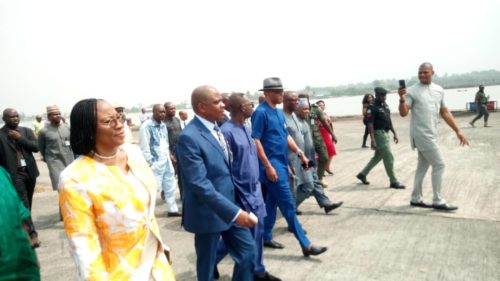 Nigerian Ports Authority (NPA) on Monday officially handed over Terminal B of the Old Warri Port to its concessionaire, Ocean and Cargo Services Limited.
The handover ceremony was overseen by the Executive Director, Marine and Operations of the NPA, Sokonte Davies. 
Davies said the concessioning of ports facilities was carried out to enhance productivities and attract more cargos to the hitherto abandoned ports.
While appealing to the people in the port community to support government's initiatives aimed at developing the maritime industry, Davies said the port concession will enhance the economy Delta State and create jobs for people in the host communities.
He said, "We therefore implore the communities, in making the government's efforts a success; they should work positively with the concessionaire; the communities should try not to put any pressure on them because pressures can shut the business down.
"But if the communities support them, they will see that as activities increase and vessels come, it will increase the engagement of young men and women, even the old people.
"The communities will be positively impacted because the economy will grow and it will have positive effect on every area of life of the people.
"We are using this opportunity to appeal to the host communities to help this one to work. It is working in other places, don't let yours be different."
Director General, Bureau of Public Enterprise (BPE) Alex Okoh, who was also present at the handover ceremony, said that Ocean and Cargo Terminal Services Limited emerged the successful concessionaire for the transaction.
He said the concession is for a period of 25 years at an annual lease fee of US$1,621,500, in addition to the entry fee and monthly throughput fee chargeable on the volume of cargo handled. 
According to him, "The objective of the government in port concession is to increase efficiency in our ports, improve service delivery, upgrade and modernize facilities in the ports, reduce cost of shipping and clearing of goods at the ports and relieve the government of the burden of financing the sector."