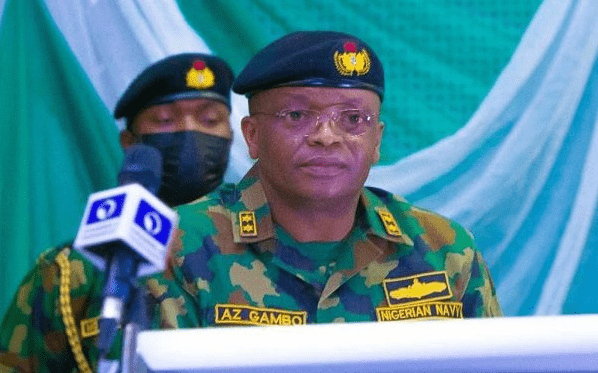 The Chief of the Naval Staff (CNS), Vice Admiral Awwal Gambo said the Nigerian Navy arrested 117 suspects and seized six vessels over alleged theft of petroleum products
Gambo said the arrests and seizures were made in the last five weeks by operatives deployed for Operation DAKATAR DA BARAWO (stop the thief), a reinvigorated battle against crude oil thieves, illegal refiners and pipeline saboteurs.
He spoke at the 10th SECUREX West Africa, an international security exhibition held at the Landmark Centre, Victoria Island, Lagos, where he delivered a keynote paper titled "Protecting Critical National Infrastructure: Tackling Maritime Crimes; Protecting Nigeria's Ports."
According to him, 51 illegal refining sites were deactivated, 563 metal storage tanks crushed and 341 dug out pits destroyed within the same period.
He said the economic saboteurs were denied over 17,793,432 litres of crude oil, 5,490,670 litres of illegally refined AGO, and 129,000 litres of DPK, all valued at over N10.7 billion.
One of the vessels arrested was identified as MV TOKONI, which was sighted through the navy's Falcon Eye facility on May 2 while sailing off Escravos with its Automatic Identification System (AIA) turned off.
"A quick history trail revealed the vessel was within the creeks for weeks. Accordingly, a naval vessel was vectored and MV Tokoni was intercepted about 100nm South, off the coast of Benin Republic.  It was observed that the vessel was laden with 548,000 litres of stolen crude oil.
"The vessel and crew were subsequently arrested and escorted to Lagos harbour for further investigation and prosecution," the CNS said. 
While advocating a database for maritime criminals especially pirates, Gambo noted that most of the criminals migrate to other countries within the sub-region to continue their activities once they have been arrested, convicted and done their times. 
He said, "Despite the Nigerian Navy's effort at ensuring that maritime crimes are reduced, new challenges continue to unfold due to the dynamic nature of criminals. The intensity and trans-national nature of maritime crimes within the region requires a more diligent record and data capturing identity of perpetrators.
"Sadly, lack of adequate database on identified criminals has allowed perpetrators of maritime crimes to relocate from one country to the other without being identified. Some persons who have been prosecuted for maritime crimes on completion of their jail terms have resumed their criminal activities in other countries unnoticed." 
Copyright Ships & Ports Ltd. Permission to use quotations from this article is granted subject to appropriate credit given to www.shipsandports.com.ng as the source.