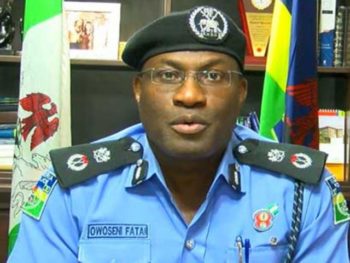 Lagos State Commissioner of Police,  Fatai Owoseni, says seven suspects arrested by the military at Ajapa, Ondo State have been handed over to the command.
Owoseni said in Lagos on Wednesday that the suspects were sent to Lagos for further investigations.
Troops of " Operation Delta Safe" on Sunday, killed a notorious militant leader, Ossy Ibori during a raid at Ajapa Creek in Ese-Odo Local Government of Ondo State.
" We cannot give much details for now because it is an ongoing operation.
"We believe that this massive hunt for the criminals and the synergy between the police and military, we will see an end to these criminals", he said.
The commissioner said that the command used the services of vigilance group at Isawo, Ikorodu Local Government Area to access the terrain.
We found out that to be successful in our operation, we needed people familiar with the terrain and we brought in vigilance group.
"Their mastery of the terrain gave us an edge at Isawo, Badagry. The area is a long stretch within the creeks and it is not navigable, covered with thick forest," he said.
According to Owoseni, police and military uniforms were recovered while structures used by the militants were also destroyed during a raid by the police.
The commissioner said that the command did not accuse Ikorodu traditional rulers of assisting the militants.
" What we said and highlighted was that we noticed that there has been a conspiracy of silence.