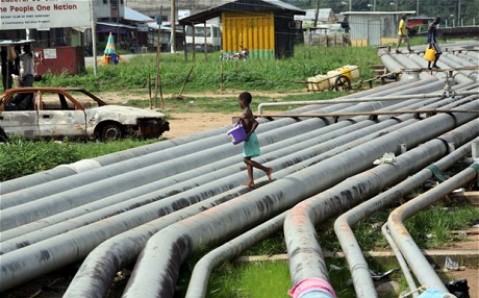 The Nigerian National Petroleum Corporation (NNPC), has said its system 2E Port Harcourt to Enugu pipeline network, was vandalised over 600 times since the beginning of this year.
The Group General Manager, Group Public Affairs Division, NNPC, Ndu Ughamadu, made this known in an interview, with reporters on Friday in Abuja.
He said, "Our system 2E that runs from Port Harcourt to Enugu has been revamped. Unfortunately, that is the system with the highest rate of vandalism.
"And this year alone, we have witnessed more than 600 incidents of vandalism on that system.
"As we are rehabilitating the pipelines, we are experiencing more damage, particularly that of Aba axis This is the main reason why we have not been able to pump petroleum products to Enugu Depot."
According to him, the corporation cannot pump product to the depot because of the waste triggered by vandalism.
Ughamadu said that the Group Managing Director of the NNPC, Maikanti Baru, had ensured full rehabilitation of the Enugu depot, which is the second biggest in the country.
"We can't be pumping where the products are being wasted in between and it is on record that the GMD has rehabilitated the Enugu depot.
"You find out that at times, petroleum products are even cheaper in Maiduguri. They sell petroleum products at the normal controlled price but in Enugu, Awka, in South East, it is higher, because we rely more on bridging instead of utilizing the pipelines," he said.
To curtail the situation, Ughamadu said that the Corporation was working with security agencies, vigilante groups, community leaders among others.
Ughamadu stated that apart from System 2E, the incident of vandalism had reduced since NNPC started implementing the new pipeline policy, whereby pipes were laid beneath the earth.
He said that the main aim of the corporation was to ensure that pipeline vandalism was put to an end, to enable Nigerians enjoy full services.