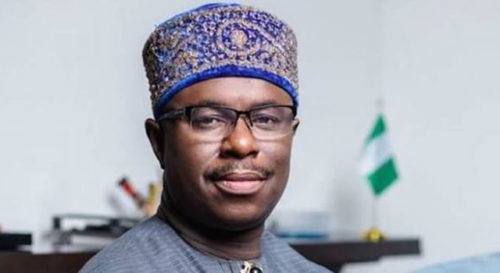 The Federal Government has approved the procurement of security gadgets for the Nigerian Maritime Administration and Safety Agency (NIMASA) to fight piracy and other illegal activities on the countries territorial waters.
Director General of NIMASA, Dakuku Peterside, disclosed this when he received members of the Shipping Correspondent Association of Nigeria (SCAN), who paid him a courtesy visit at the agency's headquarters on Friday.
"We just got approval for the importation of special gadgets which are security specialized. Those are the things we have to deploy to the communities that can easily have access to us such as walkie-talkie, cellular system that can be used under water. So when things are going on they can be easily used to get our fast intervention vessels to come for assistance," Dakuku, who was represented by the agency's Executive Director, Finance and Administration, Bashir Jamoh said.
The NIMASA chief, who restated the agency's commitment in tackling the menace of piracy on Nigerian waters, said the agency, in collaboration with HLSI Security Systems and Technology— an Israeli firm contracted by the Federal Government to provide security on the nation's territorial waters — has commenced the training of Nigerian security personnel.
He said, "You are aware that we contracted HLSL to come and look at the security domain of our own water. We just concluded training of our staff and the joint agencies that are suppose to take care of the policing including the Police, Army, Navy DSS as well as Civil Defence.
"Before the HLSL take up fully, we have six fast intervention vessels approved by the Federal Executive Council (FEC) that we use to patrol the waterways on a daily basis as well as other technology we have deployed."
Noting that pirate attacks on Nigerian waters were being over blown out of proportion by the international community, Dakuku urged journalists to always verify the authenticity of such cases in order not to send wrong signals to the shipping ommunity and as such scare investors away.
He added that such negative reports could also jeopardize Nigeria's chances at securing a seat in the forthcoming International Maritime Organization (IMO) Council election.
"If you report accurately, you are projecting Nigeria in a very good light and when we go to the International Maritime Organization (IMO), those are the things they will check. They will want to know what the position of Nigeria is last year or two years ago after the election in terms of piracy. But when such things are not there, then definitely, we stand to lose the election again," he said.
On the issue of the Cabotage Vessel Financing Fund (CVFF), he said the disbursement of the fund does not lie with NIMASA but the Minister of Transportation.
He, however, assured that efforts were ongoing to ensure that the fund is disbursed in 2019.