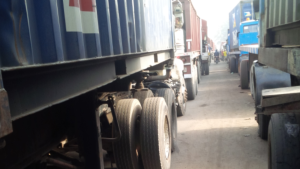 Port operations were disrupted at the Tin-Can Island Port Complex on Thursday after a yet to be identified police officer shot a truck owner simply identified as Alhaji Dan Jos.
The police officer is attached to the Roro division of the Nigerian Police Force.
Members of the Road Transport Employee Association of Nigeria (RTEAN), Tin Can Chapter, are however, demanding that the officer involved should be identified and punished.
According to an eyewitness, the police officer shot Dan Jos after he challenged the cop for urinating on a truck parked in the garage
"After the police officer was challenged, he called his colleagues who came from the Roro division with arms which he used to shoot the truck owner.
"The police officer was urinating on one of our trucks when Alhaji challenged him, it later led to altercation and he called his colleague from the division who came and shot Alhaji in the thigh."
Confirming the incident, the RTEAN Chairman, Tin-Can, Isiaka Olalere, told The Nation that one of his members was shot in the thigh.
He said: "I have just been told now that one of my members has been shot by a police officer, I'm going to the garage to put everything under control."
The Public Relations Officer of the Maritime Command, ASP Sadik Olatunde, said he was not aware of the crisis at the port.
He, however, promised to get across to the Divisional Police Officer to stem the crisis.
"I will get across to the DPO at the command to put everything under control," Olatunde said.