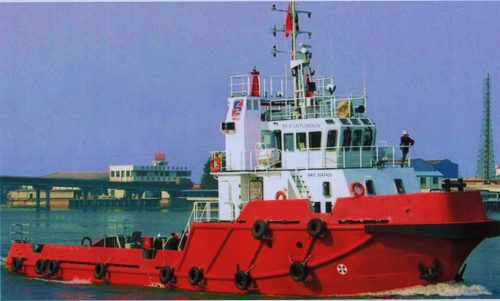 The Shipowners Association of Nigeria (SOAN) has applauded the Nigerian Ports Authority (NPA) over its decision to cancel the safe anchorage area operated by OMSL Limited, a private security firm in conjunction with the Nigerian Navy, and its consequent charges on shipping companies.
Owners of ships coming to Nigerian ports pay $2,000 per day to the private security firm to secure their vessels while waiting on anchorage to berth at the seaports in Lagos and other parts of the country.
Speaking in a chat with SHIPS & PORTS in Lagos on Tuesday, the President of SOAN, Dr. Mkgeorge Onyung, said the association considered the decision by NPA a right step in the right direction as the continued operation of a private security firm, whose operation is not recognised under the Nigerian constitution, may constitute a threat to national security.
Noting that it is the responsibility of the Nigerian Navy to provide security for vessels, Onyung recommended that the Nigerian Maritime Administration and Safety Agency (NIMASA) allocate part of the two percent contribution by shipowners in the Cabotage Vessel Financing Fund (CVFF) to the Navy to help provide needed infrastructure to secure the nation's waters.
He said, "Remember that at one time, Navy was even removed from the equation when a private company owned by Tompolo was securing Nigerian waters. I think it is the remnant of that effect that is still lingering on. For me, I do not see any reason why we should begin to create safe anchorage. What study has been done to be able to determine that this is one of the options to consider? Who knows, this can lead us further into insecurity. So we support NPA to cancel the safe anchorage.
"We are paying money to NIMASA because we need ships to grow our business. So we don't have a problem with it, if they give part of the money to the navy to secure the waters. That is a more practicable thing to do because these are people who are trained.
"The operation of the private security firm is not in our constitution. Let them go and take the MoU they signed with the Navy to the National Assembly and pass the law first. Anybody can go to the President, collect a note and take to the Chief of Naval Staff."
Onyung also disagreed with the recent global piracy report released by the International Maritime Bureau (IMB) for the third quarter of 2019, saying that it does not represent the shipowners' account of incidents on Nigerian waters.